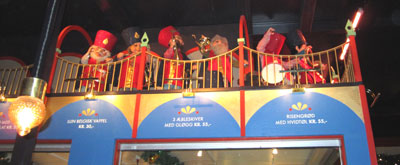 As the year comes to a close and as the holidays are upon us I find myself thinking about what Trollbeads will create for us in 2012. I just received an email from Trollbeads United States outlining the new approaches and new ideas and this has definitely got my mind going and my imagination wandering.
Just imagine what great things are coming our way! Each year we can look forward to new beads, new limited edition releases and new surprises through out the year. Just think of the surprises we got this year! I think my favorite release this year had to have been the Silver Whorl and second most favorite the Anniversary Coin!
No definite plans except for the National Trunk Show events. I know many of you have been discussing the pros and cons on discussion panels and when the holiday is over I will go and read all about them. There will be a total of 3 during 2012. You may be missing the opportunity to go to more trunk shows but on the flip side of that Trollbeads is giving retailers the choice of offering other specials through out the year.
No more serious business today because I am actually writing to say Merry Christmas and Happy Holidays for whatever days you want to celebrate. Below are some new holidays that you might want to add to your list of days to celebrate.
1.December 26th is national "Play With Your New Trollbeads Day".
2.December 27th is "Buy New Trollbeads With Your Christmas Money Day".
3.December 28th is "Return all that other jewelry you got and buy a lot of Trollbeads Day."
OK, you get the idea. How can you not celebrate being a part of a line of jewelry that brings people together from all over the world, gives back in many charitable venues and is simply the most exquisite line of beads ever created.
I have just added a page to Trollbeads Gallery about the company and it's philosophies. If you are want to read or see the page and you aren't near this blog you can find it on the site's home page on the top row of features on the far right. I hope you will go and read it, here is the link. About the Company.
(The photo above show the holiday decorations inside the food concession at Tivoli Gardens in Copenhagen where I shared glogg with my favorite Trollbeads designer, Soren.)