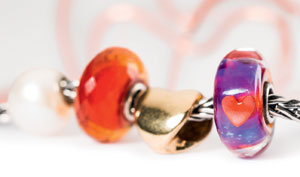 My first blog of the new year is really about the very exciting year we have ahead of us. There are so many great beads coming our way and from my position I don't even know where to start. Ok, the bead released today (1-10) shown on the chain to the left is a great place to start.
The "Be My Valentine" bead is a great new limited edition bead which is actually ground breaking in that each bead has 4 tiny copper hearts sunk with in the top layer of glass. It is also a great natural addition to the line as it will go so well with all the Aurora beads released in 2013. I have already added it to our "Trollbeads With a Twist" category which is Trollbeads Gallery's special category where you are buying the actual bead listed. New bead sell quickly in this category but I will try to replenish quickly when each one sells!
The next limited edition beads will be available at our "Spring 2014 Launch Event" which is to held January 24, 25 26th. The 2014 Spring Collection is now on-line to see and pre-order but if you spend $150 on the new beads you can purchase the brand new "Pink and Orange Aramadillo" for $31.00 or the very exciting "Eternal Love" barrel style glass bead for $63.00 as shown below!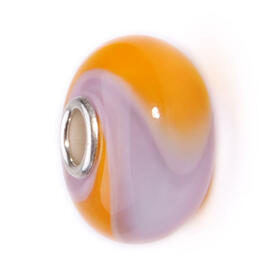 The "Spring 2014 Launch Event" is an event created to, at this point in time, temporarily take the place of the Trunk show as we knew it. The future of the U.S. style of specials is going through transition and the final plan is still on the drawing board so stay tuned.
The term "Trunk Show" was always a misnomer in it's use for the Trollbeads events but it was what people were used to as it had been used for years in other jewelry brands. It's typically when a brand brings in "trunks" of inventory for customers to purchase or order from just for that event. With Trollbeads it became a competitive "give away" and it created enormous work for the company and for the retailers while adding to the brand's lack luster appeal when there wasn't a trunk show. There are many retailers that couldn't afford the drop in margins and in the process we lost retailers that couldn't compete in this manner and this was bad for Trollbeads as well as the retailers. That may seem unimportant to the collector that wants to buy multiple beads at a lower price but in the long run it was taking away value from the brand. If you follow that further it would lead to the devaluing of your valuable collection. So let's look forward to future events and see it all unfold for all of us -the collectors and the dealers who bring Trollbeads to you.
Three NEW "X" Links for Valentine's Day have been released and they are wonderful!!!!

From left to right:
Love Bubble (as in cartoon bubble) Struck by Love and Love Bugs. Great additions to X!
So stay the course with us through this upcoming spectacular 2014 Spring release and we will all see what the future brings. As with all change the going may seem tough but the beads are getting more beautiful with each release and in the long run that is what a collector should concern themselves with. If you hold your love of Trollbeads in your heart just know that great things are happening.

My next blog will be about the new 2014 Spring Collection due out on the 24th. You can see it and pre-order it now but keep in mind we will be shipping on January 24th. There truly are sensational beads in this collection. Thank you Trollbeads.
IMPORTANT!! The Trollbeads Unique Sale is ending next week so take advantage of the low $31 price and stock up! I have continued to add beads each day so check back!! Avaialable until 1-15-14 midnight!