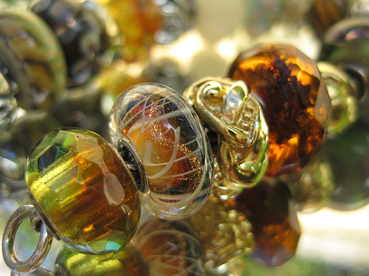 When embarking upon a collection of any kind the most important thing you can do for yourself is to learn as much as you can about sources, authenticity and basically anything you can find out about what you are about to invest your time, money and passion in. I can't stress it enough, do your research! The Trollbeads history is rich with information and how the collecting world has received them, embraced them and unfortunately copied them is valuable information.
Recently I was invited to join a "Trollbeads Beginners" Facebook Group and while I was flattered to be asked I found it the most frustrating experience. More than a few of these new Trollbead collectors were making grievous mistakes as they were searching and buying for Trollbeads in all the wrong places. What was worse was the fact they were telling their fellow members to buy from these sources. I thought if I made a comment to help them reconsider this approach, as they were in fact buying from sellers known to sell fake Trollbeads, but that didn't work. People don't like to be told they have made a mistake and anything I would have said wouldn't have sunk in. If I could have guided them to the Trollbeads Gallery Forum they would have learned that it is very difficult to detect fake beads. People like to find information on their own as on a forum and not be told.
Trollbeads Gallery Forum is the one place on the internet that has valuable information because the information is coming from very seasoned collectors, all of whom watch out for each other as they carefully create and gather their collections. Many of the Forum's members have been collecting for decades and can lend an experienced viewpoint when it comes to retired beads or about Trollbeads in general. A few of the members sell on auction formats around the world and what they sell is legitimate and it is in their best interest to share their knowledge which includes outing the fake Trollbeads Ebay s with warnings. It is in all of our best interest as the more fake beads sold the more will be out there to re-sell when they discover they've been had.
One very interesting thing I discovered on the Forum is the truth about seller ratings. DO NOT GO by this. There are plenty of disreputable dealers who, once discovered by the buyer, will tell the buyer if they give them a positive rating they will then get their money back. I started this forum as a place to gather and to get collectors to learn together but I have to say as a dealer (Trollbeads Gallery), I too have learned a great deal here.
Trollbeads Gallery Forum has a very popular section called "Groups". Anyone can form any kind of group as long at involves Trollbeads! There are many country groups and state groups as people like to discuss Trollbeads with local collectors and find out the goings on locally. Below is a list of the most popular groups. The most popular country groups are the U.K. collectors group and the Danish Collectors group. There is a total of 54 groups below are just 5 examples.
1. Collectors who revere retired Trollbeads.
2. Danish real time chat.
3. What you don't know about Trollbeads and want to know.
4. Beads swap groups.
5. Collectors who have over 15 bracelets.
If you haven't yet joined do yourself a favor and do. It's painless and very informative. Did I mention there is over 14,000 photographs from collectors showing their Trollbeads? There is no better inspiration anywhere. The photo above is from an Australian collector and is indicative of the kind of photos you will find on the Forum.