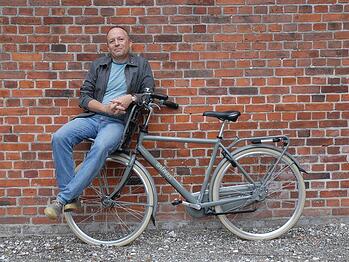 I am getting very excited thinking about this year's Trollbeads Fest with both Eske Storm and Kim Buck, both being guest designers from Denmark. Kim Buck is a relative new comer to the Trollbeads design team but he has already carved out a clearly recognizable "look" with his beads. If you happen to study the Trollbeads and come to know the designers you can see a style that is definitely unique to each designer and Kim has a very clean style. With his designs it appears to me very favorably that less is more.
Kim Buck's style is not specifically just for his Trollbead designs as he is a professional full time jewelry designer with his own studio and works on commissioned pieces for the world famous Georg Jensen Silversmiths in Copenhagen. The Georg Jensen company is where fine jewelry and silverware has been produced for over a century and has enjoyed a prolific and successful history. Kim graduated from Copenhagen's Institute of Precious Metals in 1985 and as a designer for Georg Jensen, "Kim Buck does not solely focus on creating elegant lines, but rather on the interplay between personality and design, between the wearer and the object."

Kim's "Love Within" Trollbead speaks volumes in a very private way as you can wear your heart on your sleeve but keep it to yourself. The simplicity of this design adds a great band of silver on your bracelet and it can be engraved upon. At Trollbeads Fest! 2011 we will have these beads available engraved with "Trollbeads Fest! 2011".
My personal favorite is "Two Sides to Everything". I liked it so much I recently contracted to have it made into 18K Gold and it quickly sold out. I would love to see his "Trefoil Knot" in 18K Gold but judging from the weight it would be prohibidly costly where gold is historically so high.

I am very much looking forward to meeting Kim and I know many of you are also! For information on Trollbeads Fest! 2011 please visit the website. Tickets and events are listed. History making year for Trollbeads in the United States.
*From the Georg Jensen website.