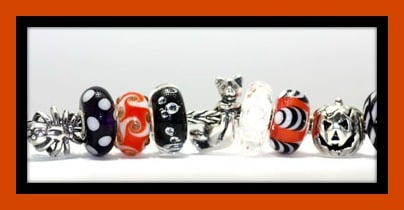 Seriously...this is a very important blog for me to write and one that is terribly late so to the other serious Halloween lovers like myself, I apologize. Next to Christmas this has always been my favorite holiday...yes, to me it is a holiday. With all the nasty political ads running I think we should start a "Make Halloween in a National Holiday" campaign. How about it?? Now that is something I would march for, vote for and celebrate in a huge way! No school and no work on October 31st! You could spend all day designing your Halloween day Trollbeads bracelet, your costume and making your Halloween treats for the evenings' trick or treators!
Day 1 of Trollbeads Fest! 2012 fell on the day the NEW Halloween Trollbeads were released so I am just coming up out of the Fest-Fog and wanted to make sure you all have seen the new beads. The Pumpkin Trollbead was the Fest favorite. It is a perfect Halloween Pumpkin with a bat outline for a mouth and a bat outline on his back side, not to be confused with backside... which I don't think Pumpkins have. But this bead could not be more perfect in any way from its perfect pumpkin shape to it's size. The Pumpkin was designed by Thor Hay. Here is a photo with many Pumpkins on it. We used the retired Coral Stripe Glass bead to highlight the orange and the black!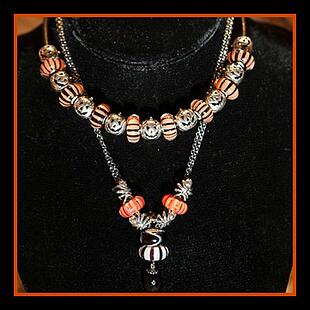 The bead that caused the most raucous (at Trollbeads Fest?? a raucous? Can you even imagine that? Ha!) was the "Inner Glow" glass bead which as many of you know glows in the dark and does so in a very sensational way!! I now know how many Fest goers can actually fit in my ladies room...which was the only dark location! We had many "wows" and a lot of laughs but after our perfectly dark display many were buying the "Inner Glow" in duplicates for their Trollbeads Necklaces and for their Skeleton necklace (which were released at the last Trollbeads Fest.) I did hear from a lot of people who were being pleasantly surprised by this bead as they were wondering if it would be as nice in the daylight as in the dark and YES it is a beautiful bead in both situations. You can see it in the "dark" version the image below!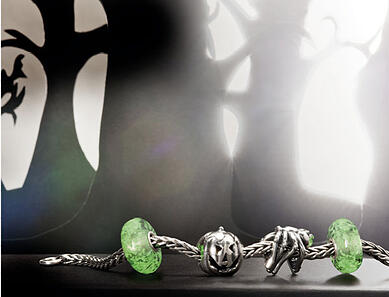 Personally I adore the new Spider Trollbead and although I know many who absolutely hate spiders, but even the most ardent spider haters were charmed, tickled and very impressed with our new Spider bead. It hangs from the bracelet as one would hang from a web! I have named mine Charlotte but I have to say she will be living on my bracelet year round because she's just so sweet. You can see 4 of the Spider Trollbeads on the Fantasy Necklace above shown with the necklace of Pumpkin beads. On the first version of this blog article I mentioned that Soren had designed the Pumpkin but he actually designed the Spider and that just tells you how crazed I was during the Fest and during the release that I didn't even figure this out!
In addition to the 3 new Halloween beads once again offer our Halloween UniqueTrollbeads. For 6 years now we have saved, hunted and hoarded all Halloween style/color Unique Trollbeads for the whole year and have been releasing them daily by adding them to our website. Below is a group of Halloween Unique Trollbeads! Beyond the Halloween deadline the beads we will then be highlighting will be the Harvest Unique beads which will feature any harvest tone beads you can feature on your late Fall bracelets. It's all about creating new and exciting designs to celebrate your daily life and to honor those around you! So once you are sporting your fun Halloween Trollbeads move on to your Harvest/Thanksgiving creations!