Ever since this year's sensational limited edition Christmas Kits were released I've had collectors and new dealers ask me for more history on the Trollbeads Christmas Kit releases. If you haven't been a part of Trollbeads for the past few years I can imagine it does get confusing so I have decided to write a quick and simple blog describing the Christmas Kits with links (of course!) and their history to bring new devotees up to speed!
For the past three years Trollbeads has been releasing two kits with six glass beads each in late Autumn in honor of the winter holidays. The kits are released in a very limited quantity and due to that fact are not around for very long so keep this in mind when considering your options. At Trollbeads Gallery we have long been known as a good source for retired beads so although I purchase a large quantity when I run out I am always on the look out for these beads and let me tell you they do become scarce.
The first year in 2010 Trollbeads released the Hawaii and Australia Christmas Kits. I have furnished links to the kits on our site but this is more for a closer inspection as the photos are larger there than on this blog. Where at the time of writing this there are only one kit of each left but there are individual beads available. Just an FYI: these initial Christmas kits were less expensive than the following kits. The Hawaii Kit comprised of cobalt blue, deep purples and it was the first time we saw the bubbles and stripes worked in together. The kit also has a purple based bead with white polka dots and as many collectors love the polka dots theme that one was sold out very quickly! At the present we have only one Hawaii complete kit left. We are sold out of the polka dot bead and still have one of the cobalt bubbles and only one of the purple and cobalt bubbles so the kit is pretty much gone at this point.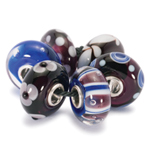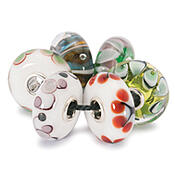 Along with the Hawaii Kit Trollbeads also released the Australia Kit which was more popular to the collectors who like lighter colors. We also only have just one of these kits left with individual beads being rare. The bead with the Tree with red berries was the most popular by far and sold out a long time ago! These two initial kits were popular as most of the special editions are but they came with a lot of negative discussion from the collectors that were longing for the traditional Christmas colors. The following year their wishes came true...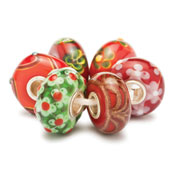 In 2011 Trollbeads released another two glass Christmas Kits. The Red Christmas Kit and the Blue Christmas Kit. So many people were wanting these colors and it was clear just how much after they were released last Fall! Both kits sold out in record time in both the U.S. and in Denmark...after only two weeks. The Red Kit had the very popular heart design which had only been seen in rare unique beads and it had a stunning glitter swag bead with fine lines of glitter draping over a solid red base. With the green holly bead, a deep red with green flower bead sporting whole new multi layered look flower and the first view of the "spinner" design in red and green the kit answered everyone's spirited holiday needs. The Blue Kit was equally popular but this kit had 3 glitter beads and glitter is very hot! Trollbeads Gallery has a few kits in stock as we were able to just recently acquire some from another retailer. Any white Trollbeads are always handy to have and with the gold details it's a must have! The blue and white theme is a year round color theme and with many blue and white unique beads it's always a pleasure to create blue and white bracelets.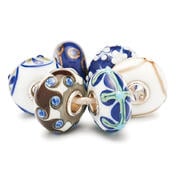 This brings us to this year and we have all seen how stunning these 2012 Kits are. The Sweet Christmas Kitand The Christmas Decoration Kit have been selling well right from the start with both selling at the same rate. It's interesting to see how the beads are developed. At Trollbeads Gallery we purchase hundreds and hundreds of Unique beads each Fall so we have a good inventory for Trollbeads Fest so we get to see the Christmas Kits practice beads come through here first before the kits come out. Last year we saw a lot of glitter on all sorts of colors and a variety of heart beads and then the Red Christmas kit came out! This year at Trollbeads Fest the unique bead selection had many of the taupe, black and glitter beads in many styles not just the ones that came out in Kit form last week. If you are lucky you can still find beads from the last year's Christmas kits come out in unique beads once in a while!

So have fun with your Christmas Trollbeads and very soon we will be releasing our ever popular 7th Annual release of Christmas Unique Beads... so keep your eyes out on our website! You will see them listed on the side panel!
The top photo is the NEW Bangle Bracelet click on the link to see it! We all love it here!!
PS: Please, pleae leave me a comment! I adore hearing just a few words from you so I know someone is reading my blog. Your comment won't show until I click it so don't worry if you don't see it right away. Writing blog articles is very solitary and I'd love to know you read it so say a few words! Thank you!!