Trollbeads are undeniably the ultimate choice in interchangeable beads and they will remain so for a very long time to come. Why is this so? There are numerous factors, two of which are discussed here.
With the dozens of brands following the Trollbeads original design, no one brand has ever come close to capturing the magical quality of Trollbeads. I'm sure I'm not sharing any industry secrets here and even if the folks at Pandora or Chamilia read my blog they couldn't utilize the concepts I'm discussing and come anywhere close to Trollbeads. Being the oldest brand brings wisdom and no brand can copy that.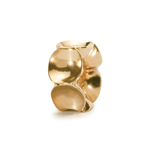 Trollbeads is the only bead line using 18K gold, while others use 14K and some lines even use gold filled. As with most companies the decisions concerning the choice of materials come from the top at Trollbeads. Fortunately for us, at Trollbeads the person at "the top" also happens to be one of the designers. Only the designers should make decisions concerning their creations. This is at the core of why Trollbeads creations are a true form of art. In the case with gold beads Trollbeads designers know that the higher the karat, the finer the detail. The 18K gold is higher in price but instrumental in producing the finest quality, finest detailed beads. Look at the gold beads and see how light plays upon each detail and reflects the magic in each bead. "Little Precious" (shown left)is brand new and "Treasures" with fine seaside detail is a favorite of mine. "Angel Feathers" had a texture unique to this bead as each feather has an etching-like detailed quality and all together the feathers catch the light like no other gold bead. Look at the Gold Wisdom bead below and see how the 18K gold cradles the precious stones framing each stone's color so beautifully. For the best in quality 18K Gold is imperative.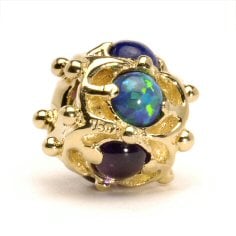 Another reason Trollbeads is the ultimate choice and one that sets the bar so high is the special category, Unique Trollbeads. In fact they are so special they are not even mentioned in the Trollbeads catalogs! These Trollbeads are the absolute favorite of seasoned collectors. Unique Trollbeads are Trollbeads that are created in a very limited quantity and are never identified or given a name as the in-line glass Trollbeads are. There are hundreds of different unique Trollbeads designs. Even the name "Unique" is not universally used. There really isn't one name used for these beads and in some cases it may cause confusion, but not for long. In Europe they are referred to as OOAK, which is the acronym for 'one of a kind'. In the United States dealers are asked not to use the 'OOAK' term to identify these beads as it is a misnomer and in marketing the beads it is considered misleading and can be could be seen as an untruth. Very few of the unique beads made are actually a true "one of a kind" as most of these beads are made in multiple, but limited quantities. The United States distributor, TrollbeadsU.S. refers to them as "Assorted Beads".
Four years ago when I became a Trollbeads retailer the Unique Beads really were unique in many respects. That was when fewer beads were being made and these beads were a brilliant use of beads that didn't meet the quality control parameters for an in-line bead and the glass artists would take these beads and add a dollop of glass with a swirl of color and call it unique, and it truly was! There would also be Unique beads created as trials for testing future in-line Trollbeads but as demand has increased for Trollbeads the current Unique beads are actually being created for the purpose of being sold as Unique beads. They are equally beautiful and expertly executed, just not as spontaneously created! What ever your favorite color and what ever your favorite pattern of bead, the Unique Trollbeads will offer you a wide choice.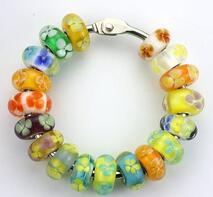 Above is a set of blue Unique Trollbeads and the middle set is a group of the Unique Flower Trollbeads which come in a variety of colors. This is just a small sample!
Below is a "3-Nique" Set from Trollbeads Gallery. We pair 3 Unique beads up that look well together and sell them as a set!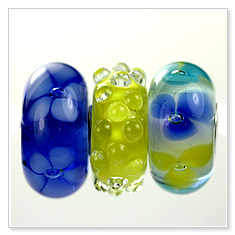 For more samples of Unique Trollbeads visit:
Please leave a comment and tell me your favorite style/color of Unique Trollbeads!