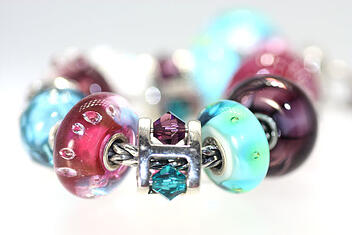 Recently I found myself thinking about Trollbeads in a different way. If you know me at all you know that I think about Trollbeads about 16 hours a day but this time it was different. My train of thought came from a Trollbeads bracelet I was photographing and it is in the photo above. It dawned on me that the Small Summer Jewel Trollbead was what made this design come alive and this led to wanting to bring attention to certain bead categories that we may all be overlooking.
Trollbeads is an extensive and historic line of beads and still to this day it amazes me that there are so many distinct and special categories of beads. I can't even imagine just starting a collection with the task of learning all about them so let me help you if this is you. After selling Trollbeads for so many years now I think I have become complacent about just how special and how deep the line really is and I've decided it's time to write about some of the sleepers. It's time to bring some attention to the designs that originally brought Trollbeads the design accolades it has earned through the years. If you have ever gone from Facebook Page to Facebook page all you will see is talk about Unique Trollbeads. Yes they are fun and exciting but you need the special silver beads to make the whole design work.
The Summer Jewel Bead above is accompanied by the Winter Jewel Trollbead with darker, warmer toned crystals. This design was also accompanied by a large version of both but these two were retired this year. Trollbeads retires beads from time to time and although retired you can still acquire the beads (for a short time) on Trollbeads Gallery. The fun part of this bead is that the crystals are movable parts and if you have this bead it's very likely you'll find yourself twirling the beads like worry beads. There are very few Trollbeads with moving parts and it's a great feature.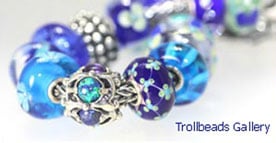 The Wisdom Trollbead is another one of the most cherished Trollbead in this category and this particular bead has 5 semi-precious stones, each with a rich meaning. Remember Trollbeads are about stories and the story to this bead is quite special. I have inserted the Wisdom bead's description here so you can read about it of follow the link! The Wisdom is also available in 18K Gold.
Trollbeads Wisdom Bead in Silver

"Five precious stones that together symbolize wisdom. An opal for loyality, an amethyst for peace of mind, a garnet for devotion and grace, a turquoise for courage and success and a lapis lazuli for competence. This is a beautiful bead and one you will find many people commenting on! Designed by Soren Nielsen."

Another favorite (I know I do tend to have a lot of these) is the bead, the Three Flowers Bead. The leaves around the bead are so sculptural and hold the dichroic* glass in a perfect bud like fashion. The dichroic glass comes in a variety of colors but green-aqua-blue are the most commonly seen. Below I am featuring one in an orange tone which works so well with the bracelet it is on. Like the Wisdom Trollbeads the Three Flowers Trollbead comes on 18K Gold. The silver Three Flowers link: The Three Flowers Trollbead.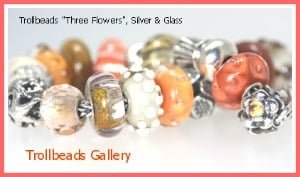 The next silver glass/stone Trollbeads I want to show you or remind you of is the Troll featured beads...and I really mean Troll. The three I want to show you are Troll With Gems, Troll With Big Feet and Glass Trolls. These are wonderfully creative and add whimsey and depth (I mean this too) to your Trollbeads designs. Each bead listed above is linked to the listing so you can read about them but below is a little collage I made to highlight them. All three of these three whimsical Trollbeads were designed by Soren Nielsen...as were the others!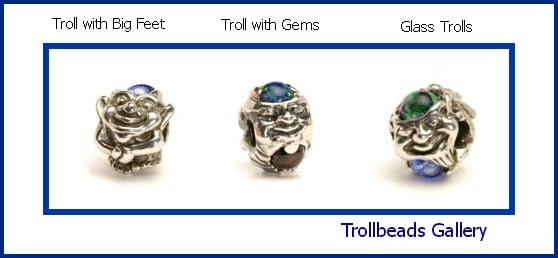 There are great many more Trollbeads that are created with silver and stone and/or glass. To see and enjoy the full array follow this link: Trollbeads Silver With Glass/Stones
For a full definition of Dichroic Glass I turned to Wikipedia!
* Dichroic glass is glass containing multiple micro-layers of metals or oxides which give the glass dichroic optical properties. The main characteristic of dichroic glass is that it has a particular transmitted color and a completely different reflected color, as certain wavelengths of light either pass through or are reflected. This causes an array of color to be displayed. The colors shift depending on the angle of view. Dichroic glass is an example of thin-film optics.
If you have enjoyed this "Deeper Look" please, please let me know by leaving a comment!
BONUS for My Blog Readers!! If you purchase any of the Silver with Glass and Stone beads I will send you a gift of one of my special Dangles! It is a token of my appreciation for reading my blog! If you buy a bead from this section I will email you and ask you what kind of dangle you would like! It will be made just for you! Below is just a sampling of stones, sea glass and charms I use. I also have a Dalamtian bead I can use with a charm too.