This is a reprint of an email sent to our Trollbeads Gallery Forum members. I am posting it here so collectors who aren't aware of our Trollbeads Gallery Forum can read about it and hopefully join it's most amazing members. If you haven't joined, please do you will find it most rewarding and very educational. You can sit back and just read and enjoy it all or you can partake in the discussions and groups. I consider myself lucky to be a part of this forum.
To join click here: Trollbeads Gallery Forum

Greetings to all of you, our Trollbeads Gallery Forum friends. I have been going through the forum's most recently uploaded photographs and I have to say the collectors here on our forum have some of the most incredible Trollbeads. Some of the photos and beads are literally breathtaking. Speaking of breathtaking for those of you who wish to improve your photo taking ability there is a group hosted by Ginger, our TBGF Photographer extraordinare! Please follow the link to our most recent Blog article where I write about our Forum hitting one more benchmark, 12,000 photographs. Please leave comments for Ginger or leave them just in general!
With all the changes and upheaval with Trollbeads at the beginning of February the scheduled price increase of 2-1-11 was pushed to the middle of the month and we kept on getting updates and mixed messages so now as of Monday 3-1st our Trollbeads Gallery will have the new prices. The changes aren't enormous but just the same it was considerate for Trollbeads to extend the date to the U.S. market.
Speaking of Trollbeads the changes have been smooth and we are very excited about upcoming changes and benefits the new distributor will offering the U.S. market. The Unique beads are coming in beautiful and wonderfully varied. For those of you who are new to Trollbeads Gallery Forum or new to Trollbeads one very big benefit of the new distributorship is our ability to now offer the 6 bead kits for the price of 5 beads. To see what kits are available visit our What's New Page. The new Spring 2011 Trollbeads are proving to be a very popular release but I'm sure none of us are surprised at this!
"Trollbeads Fest! 2011" is coming along and is all set for September 23th and 24th. We are reworking our Trollbeads Fest website and will have fresh information soon. We have been working on some great plans so clear your calendar and make your travel plans! We have it listed under "Events" on our Forum.
If you are looking for individual Pink and Turquoise Agates and can't hand select at a local dealer we will be listing them on Trollbeads Gallery shortly. We will also be listing many more Picasso Jaspers in the coming week so keep your eyes on the What's New Page!! Our Retired Trollbeads Gallery website will be offering many new "old" Trollbeads once I get them listed in the next few days. From Big Fruit, Crane, Large BOF, 3 Red Armadillos, many retired Pink Ambers to the Tulip Lock...we have a lot to share! From changing the prices and adding all of the beads I've mentioned I think I'll be very busy!
We are about to announce a photography contest (I have mentioned it) and we are just nailing down the logistics and prizes. My idea is to lighten up the end of winter by adding some comedy so start thinking up funny Trollbeads photos. If you follow the link to Facebook you can see the photo of the Baby Trolls Beach PartyI took last summer. We are thrilled to announce Isabel and Nicholas Aagaard will be judging the contest! It was originally planned for the Trollbeads Gallery Facebook page and may still be there but for those of you who aren't on Facebook I don't want to exclude you. If you are on Facebook and not yet on our page please join our by clicking "Like Us". Trollbeads Gallery Facebook! You'll see Trollbeads here that I don't show on the forum... just for variety!
One more thing! I want to remind you to go to "Groups" and check them out and please join your local group or create one if you don't have one for your state or your country. This is a great place to learn about your local Trollbeads events so it is very worthwhile joining!! New members are joining everyday and our international members are joining in great numbers and our groups will be getting busier! Welcome to all of you. If you have any questions or concerns please feel free to email me at:
Warm Regards, Louise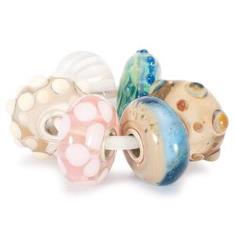 PS. Here is one of the kits! Don't forget that Trollbeads are now available in kits! Save $31.00!