If you are a committed Trollbeads collector you have had a very busy 2014 thus far and hold on to you hats…it's only going to continue!
The year began with the 2014 Spring introduction on January 3rd. I say "introduction" because if you haven't been paying close attention there is a new way of introducing beads and that is to first introduce the beads and then to release them for shipping and at a future date. You can purchase them earlier then the ship date but you can't be shipped until the ship date. It's a new trend to take the pressure away from trying to hide them from public viewing before the release date which was too hard and not worth the effort. So now dealers get to show the beads in advance. Keeping the schedule in mind is not easy so I will create a chart to have at the end of this blog within a day or two. The Spring release has been a very successful launch with many of the new glass kits being purchased more than the individual beads as all 6 beads are gorgeous. As most of you know when you buy a kit you get a free bead as you only pay for 5. The new Swan bead, Falcon bead and the new Rabbit beads have the detail of earlier animal beads leaving cuteness out of the equation so they have been very well received.

On February 7 we say the introduction the 2014 Mother's Day Collection with a shipping date of March 21st. The glass bead is a ground breaking design for Trollbeads as it is a multi-color glass bead yet it is faceted. Along with the glass bead the two silver beads have a fanciful appeal and the earring components resemble the silver beads.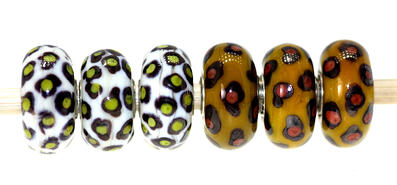 Late January we started seeing a new look to the classic uniques that were coming in and they included the opaque animal print beads, shown above. They came in roughly 2 colors, one on a white background and the second in a dark yellow/orange. The other beads of this group were some great new heart beads including multi colors of glitter. We were all loving these uniques when all of sudden they stopped coming in but what came next was the newest release of small and beautiful beads! This craze has its origin in the delightful designs and details including their small scale and the use of blue glitter. This is the second wave of these beads to come in and the last wave was in 2013.

March 7 was the introduction of two new collections. The Easter Collection has a new kit of sensational Eggs and a new sterling Bunny. Until I saw the image of the bunny from the front I was not excited about another Bunny but the paws of this one reminds me a children's Easter book I was once enamored with but it was too long ago for me to remember the title but it still brought back my love of it. The shipping date is March 28.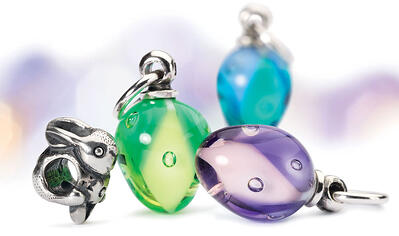 The second collection introduced on March 7 was the Cherry Blossom Collection. This group includes a very exciting and stunning new Fantasy Necklace with an emerald which is being held by a pretty sterling Cherry Blossom bale. This is the first time the bale has been unique to the Fantasy Necklace design. There is also a new Cherry Blossom Pendant bead which can be used with all of the Fantasy Necklaces. Like the new bale it is textural and eye catching. The group is also accompanied by a pair of Emerald Earring Components. The Emerald Faceted Stone Bead was released with the 2014 Spring beads and it's glorious soft green tone with its gentle patterned fissures has been a hit so we are all thrilled to see the Emerals used again in this collection. The Cherry blossom group will be shipping on April 11.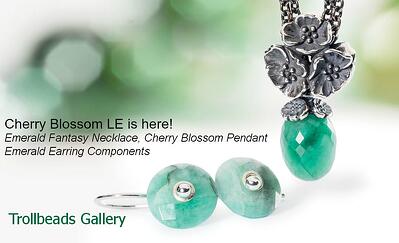 Stay tuned for a date release chart you can print out and pin or pin to your Pinterst Board!
In the midst of all these releases there was also a release of "X" by Trollbeads and the introduction was on Feb 12 with a shipping date of Feb 26. The Hummingbird is one of my favorites along with the Poppy Decadence. Our group of X collectors have been growing steadily with a great jump coming from the Special event now running! If you spend $100 on any X links you will be given 10 FREE Rubber links. So if you have been waiting to jump on board it's a great time! Our special ends on April 15th!