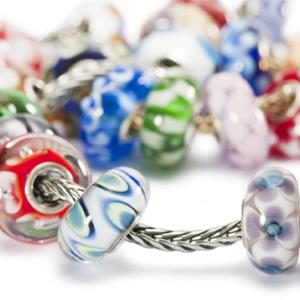 This past July saw the introduction of the Universal Unique Trollbeads. I was fortunate to be at the Las Vegas Jewelry Show where they were debuted in the U.S. and where I saw the Universal Unique beads for the first time.The Universal Uniques or U.U.'s are created with a larger core enabling them to be used on Pandora and Chamilia chains. At the show I was able to hand chose the bead kits while keeping my customers and my Trollbeads Fest, which at this point was still in the future, in mind.
This new introduction from Trollbeads was monumental and even more so than perhaps expected. After this exquisite release it was to my surprise many forums the world over had the buzz going and there were many long time collectors that were not happy with this new introduction. One collector said Trollbeads had sold out. Sold out? WHAT is that supposed to mean? Honestly I couldn't understand that opinion. Yes they were altering one part of the line but they would be still be making the standard classic size core Uniques. Why should they not change or alter something to allow other chain brand collectors to wear Trollbeads? How is that selling out? What they did was undo what Pandora and Chamilia had done to keep Trollbeads off their chains. Trollbeads has created a larger core to fit over the larger element that Pandora had implemented to keep the Trollbeads from being used on their chains and then Chamilia copied Pandora. Remember Trollbeads was the first on the market and Pandora created the same add-a-bead concept but with an end element was designed so it was too large for Trollbeads to fit over. The change that occured within Trollbeads isn't selling out, it is exactly as Lise Aagaard made the decision for, it is simply to share the beauty.
As you are reading a Trollbeads blog you may not have ever seen the Pandora glass beads. They are limited in number, are not creative, they don't vary and they certainly don't have uniques. Plus they have a huge flange of silver with "Pandora" stamped around it which design wise is too obviously a commercial branding effort. Is this necessary on personal jewelry? The reason is Pandora is not managed or owned by artists as Trollbeads is so the outcome of product is a direct result and always has been. What Lise saw and what she understood is something so sensitive and so practical no one in the Pandora frame of mind could comprehend it.
Lise understood that Pandora chains are often given to a woman as a gift from her husband or from her children and she knows many woman don't want to replace what was a special gift. Lise also understood the financial aspect. Even if Pandora wearers love the Trollbeads glass beads it could be a financial issue for them to decide to start all over. So the decision was made to offer the most beautiful glass beads on the market to everyone so all can enjoy them. It was a generous move.
Do you know that many of the Unique Trollbeads are made by Tibetans living in India in diaspora? The Aagaard's have been instumental in training these people and paying fairly for 6 years and stay in close contact with new training and techniques. This is just one community the Aargaard's have been aiding in making self reliance through housing, training and by building them the state of the art, well vented studios for them to use to create the unique beads.
Trollbeads has recreated a win-win situation and I don't, for one, understand the controversy over the Universal Beads especially now when we have all seen how beautiful each one is and everyone has seen this too from new collectors to the old collectors. Come to think of it I think whatever created the buzz has dissolved and the buzz has turned into a purr.
The Green Armadillo shown here is a beauty of a Universal Unique bead and a great example of the quality coming from Trollbeads.