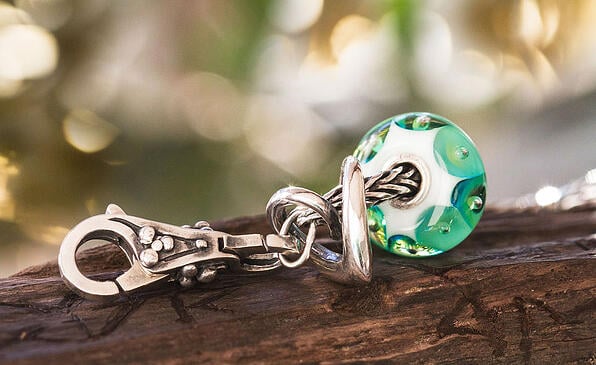 We have enjoyed many releases from Trollbeads this Spring and on Friday we can release the "My Sweet Stories" bracelet. This release will give you 4 items for a price of only $109.00. The new release comes with a chain, a lock exclusive to this release only and two beads exclusive to this release only too! A fabulous new Sterling Heart bead and a lovely aqua/green bubble glass bead. If you add up all of these items separately you will be up and over $165.00 so at only $109.00 it is a great deal! If I have learned anything about Trollbeads in 2014 it's that when they say limited edition...they mean it! I have plenty in stock but if you are thinking about it you might want to jump on it! Click on the link to see it! My Sweet Stories Bracelet

Besides this we have been very busy filling orders and trying to stay calm as we await each new release. We have the Autumn release unveiling in mid August with a release date of mid September and then we can look forward to the People's Bead release and the Halloween release.
I just had a report of great success at the Premier of all jewelry shows, the JCK in Las Vegas. I could not attend but I heard the Trollbeads booth had new and inventive displays and a lot of excitement around the possibilities of showing finished jewelry designs. The efforts are so helpful to retailers looking for a new way to display and sell Trollbeads.
The New Uniques have been coming in with some wild and wonderful new designs and we are so excited by them!! We still are getting the "small and beautiful" but we are also getting in beads that are "large and wild"! Below is a line up what has come in and are now gone but we are eagerly waiting for more!! We just can't seem to get enough in to keep me busy!!

A new addition to our site!
If you aren't a frequent viewer of Trollbeads Gallery you may not know that I have listed my own creations...Dangles for bracelet chains. I've been making jewelry for quite a few years and I have always made dangles for our customers at Rogers Gallery, our retail store, that would offer our Trollbeads collector something a bit more local and something Trollbeads may not have in the line. Originally I made sea glass dangles with ocean or animal themed mini charms but now we have branched off with offereing mini artisan glass beads. Scott Bouwens, the designer of the Trollbeads Rocky Beach Kit has been creating some wonderful mini beads for me to use on the Dangles. We are expecting a whole new batch of them next week. The bales are so small that I don't feel this competes with Trollbeads and for many who love the motion on their bracelets the dangles are a fun addition! If you are missing anything you want that Trollbeads doesn't offer just let me know and I'll see what I can do! I keep some of the sold dangles on the site to you ideas of what can be done but you can also follow my Dangle Board on Pinterest! I am trying to keep a record there of what I have listed.
Below you can see an Amber Dangle,Yellow Sea Glass & Bee Dangle,Scott Bouwens blue bead and an aqua sea glass with Dog Bone dangle!

Louise's Dangles on Pinterest Louise's Sea Glass Dangles On Pinterest
Louise's Dangles On Trollbeads Gallery
Happy Trolling for now and go enjoy that beautiful Spring weather!!