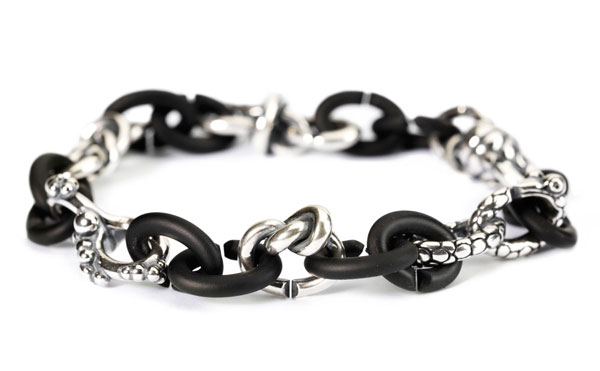 X is a new jewelry concept created by Lise Aagaard and designed by Lise and other leading existing Trollbeads designers such as Soren Nielsen, Mette Saabye, Nicolas Aagaard plus other Trollbeads designers. "X by Trollbeads" is a jewelry line that clearly displays the forward thinking and the forward moving direction of Trollbeads and I for one am very excited by it. When placed in the hands of everyone that is drawn to it ... something great happens! The links turn into a personal creation reflecting a part of you in a whole new palette of sophisticated patterns and textures. When you think about each link it is similar to the classic Trollbeads line in that it tells a story but in it's early days X has less vocabulary than the Trollbeads bead line! It's minimalist and sophisticated but don't let that scare you! You will love working with it. How can you not love that the rubber links are only $2.00. With this in mind it is easy to come up with a design early on with mostly rubber links and then add the silver and bronze links slowly making your "X" purchases more easily afforded.
During Trollbeads Fest last weekend I enjoyed watching everyone discover the possibilities as they had a chance to play with it creating different pieces. I thought we had created a lot of things but when you add more people to the mix you end up with even more ideas and more creations. Our Trollbeads rep Kim was here and she was the "X-Lady" in charge of the X jewelry. Kim wore a great asymmetrical necklace she created and an image of Kim wearing it is shown here - doesn't that make you want to start creating?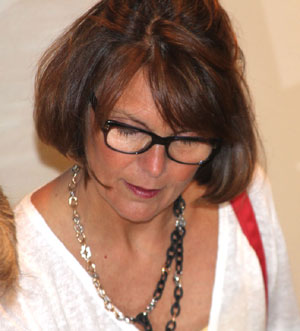 The possibilities go on and on but for a couple of examples Liz, who spends a lot of time sailing with her family made a bracelet of "Lover's Bond" Links and it had such a nautical feel to it. Then Mary Anna our Trollbeads Fest song writer and musician created a bracelet with the guitar link which is called "Rock and Roll".
How does it work? It's designed so each link features an x shaped beveled edge which created a slight separation so with a simple twist two links are joined together. So the lengths are defined by you and the design is too. The links are made from high quality silver, bronze, gold and black rubber links designed so you can create the unexpected! Look at the video below to see a glimpse of Denmark and of Isobel Aagaard! If you need guidance as to how many links needed to create a bracelet just go to our site and you'll see the chart there.
X is totally unique and very exciting and we are thrilled to report that initial sales have been brisk and we are seeing more men take part in this line than in the bead line by Trollbeads. We are so excited to have taken it on and added it to our Trollbeads website.
Click on this link and see an introduction and visual guide on how to link the "X" products by Isobel Aagaard the daughter of Trollbeads head designer and leader Lise Aagaard and see how easy it is! You'll be X-tremely happy you did!
"X by Trollbeads" Conceptual Video
Below is a fun themed "X" bracelet created with all of the X animals. See how unique it looks?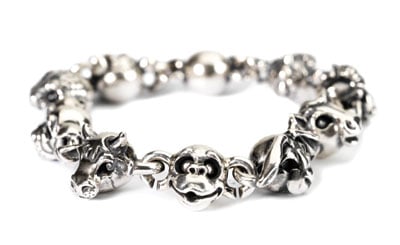 Below is the "Rock n' Roll" X bracelet which gives the bracelet a muck edgier look with the "Rock n' Roll" link and the others used in this bracelet.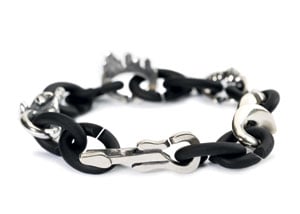 To see more jewelry created with X just click on the link to our:
"X by Trollbeads" Pinterest board!
"X by Trollbeads" on Trollbeads Gallery We have the full line in stock!