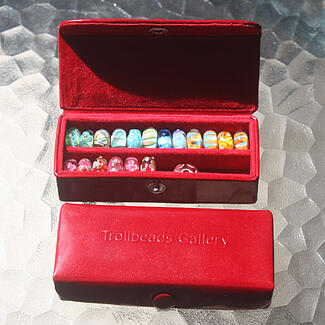 Once again we have our special custom designed Trollbeads case in a high grade leather in stock. It measures 4" x 1 1/2" and is just 3/4" high. This handy size makes it fit in any purse of brief case so you have your beads handy. We like to use it for the beads we need mates for or the beads you haven't yet placed on a bracelet and as you happen to visit your Trollbeads dealer you will have them handy! A few years ago we had them as a gift at Trollbeads Fest and so many people have requested them that we arranged to have more made.
I chose to release them now before the price increase so you can purchase beads at the lower prices and earn one of our lovely leather boxes! A great gift for a fellow Trollbeads collector, a great keepsake and a handy way to travel with your beads. To cover the cost of the cases we are asking for a $150 purchase for you to receive one free. Trollbeads does not offer sales all the time so this way you are receiving a gift instead of a discount! They will be available only as long as supplies last!
The images below are sneak peeks at the new Trollbeads release due out on September 5th! We are so excited by all of the beautiful glass beads and there are new clasps and silver beads with an Eastern theme. Trollbeads continues to design and offer beads that have rich spiritual meaning and also beads that are just plain fun! There will be two new animal beads a fawn and a squirrel bead! We are also being offered 2 new stone beads and the great news about the stone beads is their price will remain at $63.00. The new Lapis Lazuli bead is a rich blue bead and the Brown Yellow Calcedony is just as it sounds a rich yellow toned brown.There are many more beads to talk about but we need to keep something a surprise!
Here is the Lapis Lasuli bead!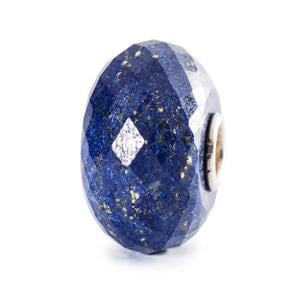 "Lapis Lazuli brings matters more clearly to the mind. The stone is found in both eastern and western parts of the world."
Just a quick mention to say that I am blessed to be a dealer for Trollbeads, the best bead brand in the world. I am also so lucky to have the customers I have and the friendships I have made in the Trollbeads World. I have life-long friends I have met through my connection to Trollbeads and I am so grateful. I am also grateful because we have so many great beads to look forward to and also a great new release coming from "X by Trollbeads" soon! I am mentioning this because with another website closing I want to assure you I am going strong as are Trollbeads and I look forward to a great future with the brand and the people!
Thank you for your support and for your friendship.
Louise Rogers