We are just upon Trollbeads Fest! 2014 and the excitement is building! We are very excited to have been receiving some of the most beautiful Unique beads we have ever seen! New and exciting and I want to thank Trollbeads for taking such great care of my customers and collectors. Gail Crosman Moore will be present and making beads on both days!!
This is the Fifth Trollbeads Fest! and we are thrilled to be a major part of the history of Trollbeads in the U.S. Each of the past Trollbeads Fests were memorable for a variety of reasons and I am sure this one will be too.
The most important bit of information to share with you, the collector is the special we will be offering to you both here in our gallery during the Fest but also on-line on our website. We are offering to classic and much beloved "Buy 3 Trollbeads and get the 4th Trollbead free" special. This was the classic Trollbeads Trunk Show Special and when Trunk Shows went away almost a year ago many collectors were very sad. But it's back! What is great is that it is even offered past the Fest until October 16th. The occasion of this special is always the perfect time to stretch your Trollbeads dollar and get more for the holiday as gifts to yourself or to loved ones. If you are new to Trollbeads I want to explain that the free Trollbead or the 4th of the deal must be equal to or less than the lowest price bead of the 3 you are paying for. So group your beads accordingly to make the most of the deal. If you buy 3 $31.00 Trollbeads you are entitled to a free $31.00 bead or a $28.00 bead. Another example would be if you purchase 2 Trollbeads at $63 and 1 at $31 you can only receive another $31 bead or a $28 bead free. Plan your purchases now and plan them wisely. We have new 2014 Catalogs available so if you are coming to the Fest you can get one or if you request one we can mail it to you! This new catalog has everything as of this date and is a great book to have!!
How to order on line during the event? On October 3rd - October 16th you will be able to take advantage of this offer by purchasing the first 3 beads and in the notes section at check out write the free bead(s) of your choice.
One of the most exciting things about Trollbeads Fest! (besides all the glorious beads) is the comarderie between the collectors. We have a number of attendees that have been to every one of the Fests and can't wait to renew their friendships each year. Last year we were not able to commit to the large function hall we started at so we did a small scale Fest in our own gallery and everyone loved it!! Less craziness but also less cost as I don't have to charge admission as I did when we held it at the event center. Of course we don't have the large gift bag anymore but we do have free gifts for everyone that attends!!
Special Event Trollbeads This year we have been sent a beautiful group of glass Trollbeads that are called "event Trollbeads". They are with a vine design or flower designs and we will be offering them on-line after Trollbeads Fest! Below are the photos and we have mulitples of most of them. This is the first year where we have been offered so many beauties. Year's past we had one bead as an event bead!

Schedule for Trollbeads Fest! 2014
Friday: October 3rd 9:30 - 7:00 With a Wine and Cheese Event from 5:00 to 7:00.
2:00-6:00 Gail Crosman Moore glass bead making demonstration. She returns for a full day on Saturday.
Lunch is offered between 12:00- 1:00.
The Wine and Cheese events are fun because we donate great beads to a charity raffle and have fun watching the winners announced at the end.
Saturday October 4th 9:30-5:00
Gail Crosman Moore will be here demonstrating her glass bead making. Come see the flame work in process and see the finished beads. You will also have a chance to buy some of her great beads that have a wild side to them!
Lunch is offered from 12:00-1:00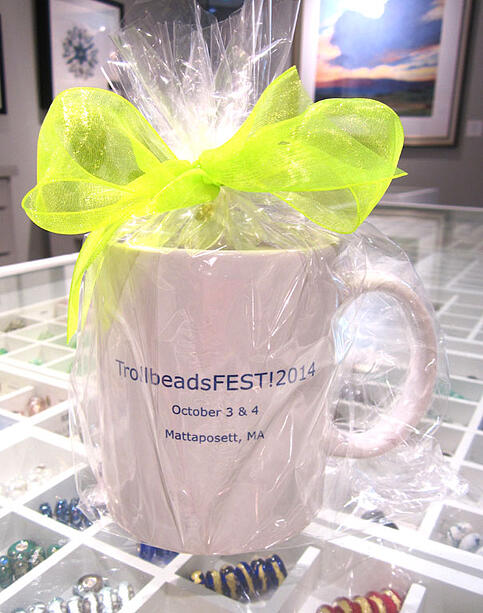 Here is this year's free gift along your purchases!! A mug filled with local cranberries covered in chocolate!!
What is your excuse for not attending? We are on the South Coast of Massachusetts which is an hour south of Boston and 45 minuted East of Providence. There are plenty of hotels around and where we have people coming from Europe and from all over the U.S. you can tell it is worth the trip! New England in the Autumn is the most beautiful place...come for a visit!
Call for hotel suggestions! 888-758-3641