Greetings Trollbeads Fans-
We are writing this blog to tell you we have TWO Bangle specials with two different deals and two different time frames. Ok, so maybe Trollbeads is just making sure we are paying attention...but whatever the reason you stand to save money on both specials so listen up and pick your favorite!
The 1st Special is only 4 days long! July 30th- August 2nd. So jump on it if you want it! Our Summer schedules are so busy you can turn around for your bathing suit and in an instant it could be August 3rd! It's simple and you'll save $40.00! Just pick any Silver Bangle and any bead and we will give you 2 FREE Stoppers. How? Just purchase your bead and bangle and we will send you the stoppers so no code needed!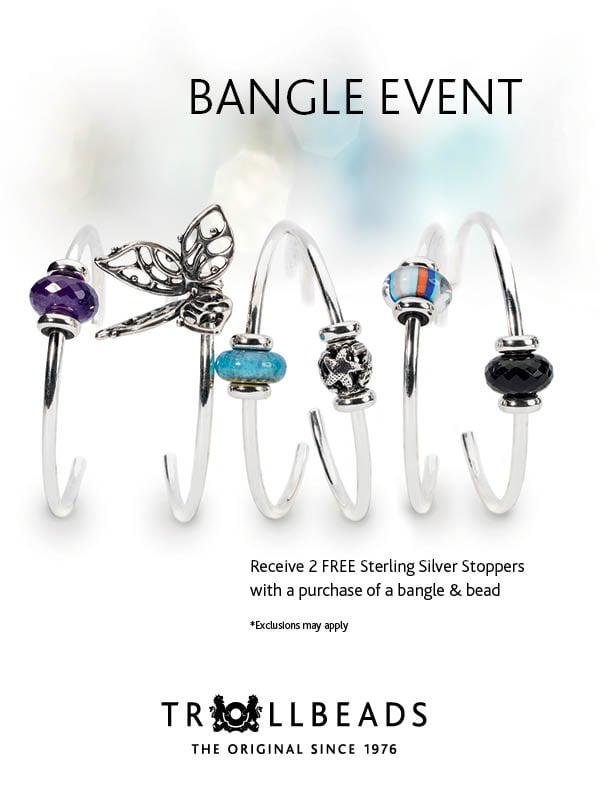 The second Bangle Special starts on July 30 but goes through September 30th! With this special you will save $42.00! On this one you can purchase the Silver Bangle and the two Stoppers and we will give you a prism Trollbead in the color of your choice! How? No code needed here either! Easy beadsy! Just purchase The Bangle and the Stoppers and in the notes section at check out tell us the color Prism you would like to get free! Got it? If not call us and we can help you!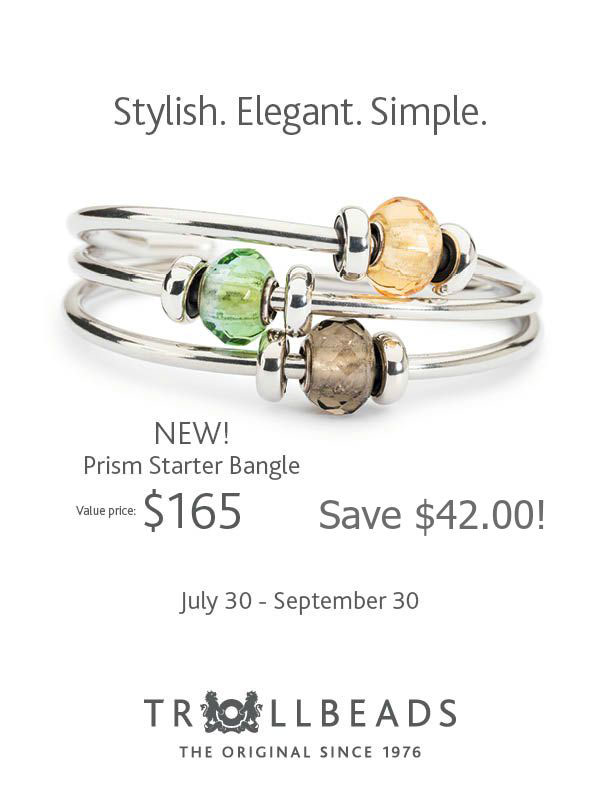 If you missed my handy dandy links to the Bangles and Stoppers in this blog here they are again!! Plus we have a listing just for the Prism Bangle Listing!
If you are wondering about why Trollbeads is running two Bangle Specials concurrently it is because we want every collector to try a Bangle. Market research has shown that if a collector owns a Bangle they use it all the time and they love it! But not everyone has jumped on board and tried one. So this is one more opportunity for the uninitiated to experience the ease of the Trollbeads Bangle!
World Tour Beads Back in Stock!
We have just received the very special World Tour Beads back in stock! Check the recently added beads! Iron Wolf, African Pride (Yes, that great lion bead) and many others! World Tour Trollbeads
Trollbeads Fest! 2015
We will be hosting our annual Trollbeads Fest! on October 2nd and 3rd 2015! We have many exciting beads and treats for you so get your plans going!
Where: Rogers Gallery, Mattapoisett, MA 02739 508-758-3641
Friday and Saturday! Buy 3 get 1 Free, Bead Making Demo and so much more!!We will be sending out all the particulars soon!!
Our 6th Annual Event!!!