As we continue the accomplishments of Trollbeads for the last year we move on to the Limited Edition Spring Flower sets, Pink and Blue. As with other special releases these were available for a short time and only to Premier Dealers. Premier Dealers are the retailers who sell no other interchangeable bead line. The two Flower sets were composed of 6 beads each and were strategically designed for each set to create complimentary colors for a bracelet or if you wished, the beads could be purchased individually. For the U.S. this was the first time the very unique designs were available to the collectors. Unique beads or OOAK, as they are called in Europe, were being offered abroad in these designs for a while prior to this release.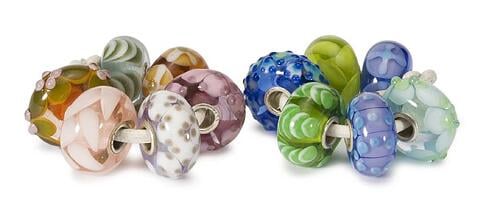 Right on the heal of the Spring Flower sets Trollbeads stepped up to answer the desperate needs of Haiti following the horrific Earthquake of January 2010 by producing the Haiti Empowerment Sets of Trollbeads. This release brought an even wider and more extraordinary range of new Trollbeads designs to the U.S. and the success was great for Trollbeads, for the collectors and for Haiti. By the end of the release Trollbeads was able to donate close to $300,000 to Haiti's Habitat for Humanity which provided housing for 50,000 Haitians. As you probably know Habitat for Humanity is a not for profit organization that helps communities build homes for low income home ownership. In Haiti's case the displacement of so many people has caused an on-going desperate need for housing.
Like other Empowerment Trollbeads the center core is made larger so all bead collectors can partake in the cause. Pandora and Chamelia both require the larger opening. Below are examples of the Haiti Empowerment Trollbeads.