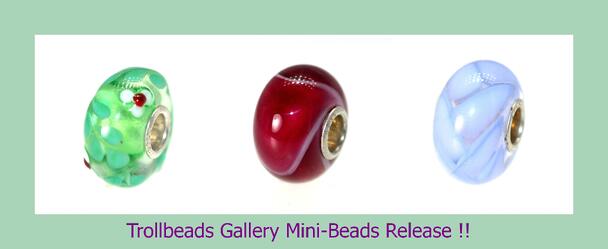 It's been more than 5 years since Trollbeads Gallery has had a mini-bead release and it's taken that long for us to save and hoard the small scale unique beads for this release. Our mini-beads was a very popular category years ago when unique beads and standard glass beads were made on a smaller scale but now it takes longer to find them. I can remember when I released the first group every other dealer was calling Trollbeads asking why they didn't get the mini-bead release as I had. It was quite funny at the time because not many people saw the beauty in the smaller beads as I had and the distributor at the time, not known for his compliments, was quoted to have said "Leave it to Louise to take something no one wanted and make it something everyone wants." I don't know why I am so attracted to the smaller beads but they definitely have a place in the Trollbeads market.
What makes a mini-bead? At Trollbeads Gallery a mini bead is any unique glass bead that measures 12 mm or less. Years ago when we featured mini-beads we were gaging them at 10 mm or smaller but that small is a hard bead to find. We've been collecting them primarily by sight as you can see the difference immediately. The bracelet below is my own mini-bead bracelet and you can see that the smaller silver beads look best with this scale glass bead. Besides the unique beads you can see other standard glass beads that I have that are tiny.
Another great source for mini-beads is the unique Trollbeads amber beads. You can see an amber bead at the end of the bracelet above. We have a lot of those we will be offering also and they too have perfect places to be so to you big bead buyers don't snub your nose at them!
Below is my other mini-bead bracelet and you can see the beads are close to the size of the compact Prism Trollbeads. I have more amber on this bracelet and it all works!
Besides building a whole bracelet with mini-beads you can also use small scale beads as a nice ender bead for Trollbeads bracelets. If you use a smaller bead at the end of a bracelet it lets you hold on to the lock easier to put your bracelet on or take it off.

They won't last long as the collection isn't unlimited. I will be adding some new ones after the initial release so check back!
Another note here! Our Winter Trunk Show is happening November 14-18 so get your list ready. We will have a special gift with purchase for you soon to be announced!