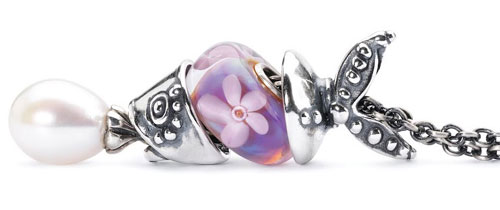 This new release is a very exciting addition to the Trollbeads line! I have so many favorites I don't know where to focus! But just look as the new Fantasy Pendant Jewel of the Sea above! It is delightful and it isn't the only new Fantasy Pendant!
An exciting new group of stone beads have been introduced and these are the Hematite beads. There are four colors available and they have a very unique shimmer that will add a whole new dimension to your Trollbeads bracelets and necklaces. Prices as the same as Glass 1 beads at $34.00 each. Available in Yellow. Blue, Green and Red (shown in order below). They are all colors that will work well with so many other Trollbeads. The Yellow has a golden glow to it!

There are so many new silver Trollbeads you just have to go look at all of them. This release introduces a whole new shape to a silver bead and that is the new conical beads which are wider at each end. There are 3 new beads in this style. They are great when used on a Fantasy Necklace too!

There is a total of 10 new glass beads in two new kits. The Aqua Kit and The Delicate Kit.
Both are shown below. There is one older bead included in each group, the Turquoise Ribbon and the Rose Ribbon. Remember if you purchase a kit you will receive one free bead!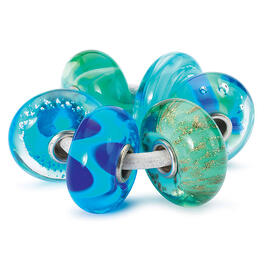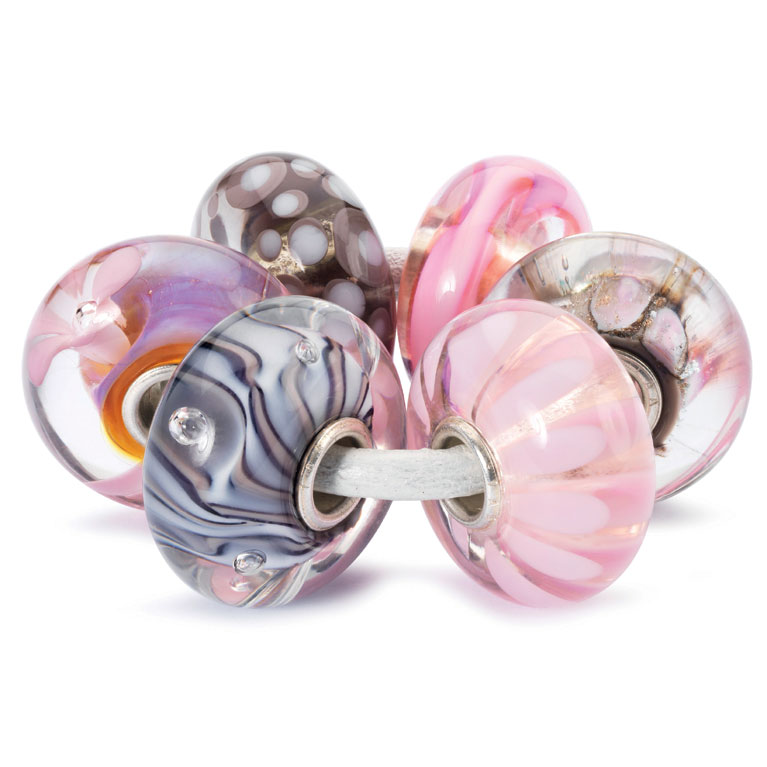 The Spring Collection introduces new ring designs. Our favorite is the new Aurora Ring. So many collectors love all the Aurora based Trollbeads so having a ring to wear with this great look will make many happy! The glass has the same inner light that you find in the Aurora beads. The glass stone is large and beautiful!!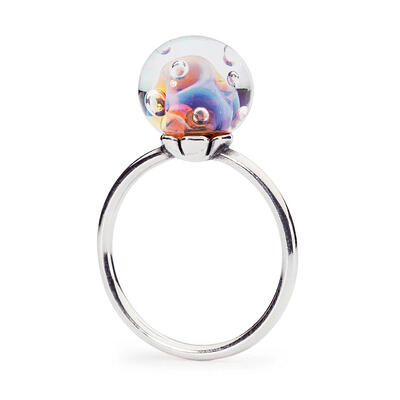 There are also two new Pearl Rings that have the same mounting as the Aurora Ring above. A White Pearl Ring and a Light Grey Pearl Ring has also been introduced. The 4th new ring is a nice thin silver band with a gold knot that floats around the band. The Remember Me is very easy to wear. When I first saw it I thought the gold would be stationary but it is not! It is a perfect ring to stack with others and so many people love the silver and gold combination. The photo below shows all the rings together.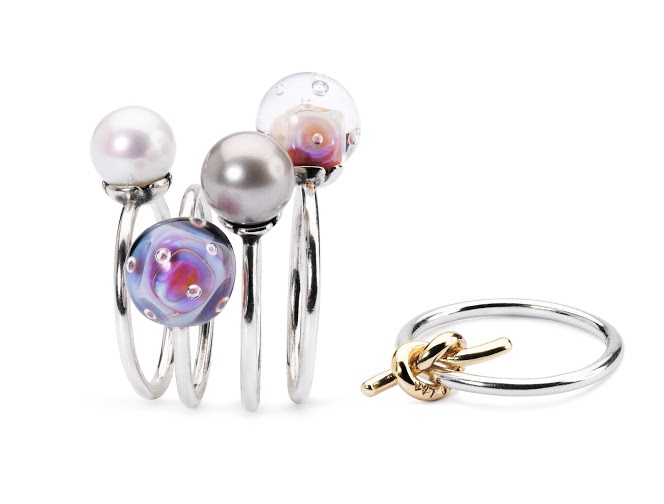 So take a look for yourself and treat yourself to some new Trollbeads to "rush" Spring along! I know when I look at the new Aqua beads I think of Spring! We are shipping now so jump on it! 2015 Spring Trollbeads Collection.