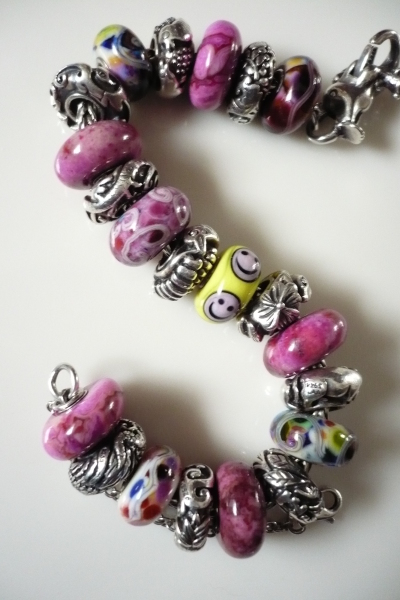 *
As I was deciding what to include in my 2010 Trollbeads summary it astonished me to see how much Trollbeads accomplished in just one year. Too much, in fact, it will take more than one blog to include all of the special releases that made 2010 such a remarkable year for Trollbeads and Trollbeads Collectors. Thank you Trollbeads!
February 2010 Trollbeads released a Limited Edition of the Crazy Lace Agate beads. This bead is one of many different colors and forms of agate and is a deep rich pink with veins of purple, gray, rust and black running through the stone which gives the beads a wide variety of appearances. For the first time there were actually two shapes created. Europe was offered the smooth Crazy Lace Agate and the U.S. was offered the bead in a faceted version.
Crazy Lace Agate is known as a healing stone. It provides balance and it protects the wearer. It brings laughter to its possessor. Crazy Lace Agate is used to help in making decisions by balancing the energies used in the physical, the emotional and the mental which keeps the possessor focused and better able to make good decisions.
As with all of the limited edition releases, only the Premium Trollbeads dealers were offered the Crazy Lace Agate beads. Premium Partner dealers are dealers that offer no other competing interchangeable bead line. Crazy lace Agate was only available for a very short time and is no longer attainable through Trollbeads. Trollbeads Gallery sold many of these beads and is always looking for more to sell under our retired Trollbeads line. We have the beads and will soon be adding them to our retired website. Please email if you have any you would like to part with! http://RetiredTrollbeadsGallery.com
email: Louise@TrollbeadsGallery.com
*Photo taken by Trollbeads Gallery Forum member! The four smooth pick beads are Crazy lace Agates.