Every time I look at my emails or check Trollbeads Facebook sites I discover new treasures coming from Trollbeads in all shapes and forms! Just when you think they have released the most perfect introduction of beads this autumn...more great things are on their way.
As many of you now know we are officially introducing the Trollbeads Skeleton to the U.S. market at Trollbeads Fest! 2011 on September 23rd and 24th. We have seen the Skeletons at the New York Show and surprisingly fell madly in love with them. I say this because last year when they were only offered to the European market we all pacified ourselves with thinking we weren't interested. Let me tell you...hold all comments and opinions until after you meet one in person, it is beautiful and hilarious all at the same time. He's meant to hang in a "lazy attitude" and trust me he does. Of course when you consider it is one of Soren's designs you can appreciate it even more!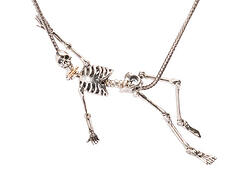 I like to think of it as personal sculpture!
The Trollbeads Coin, issued for their 35th Anniversary is nothing short of stunning. We should be getting ours next week. Please reserve yours now by emailing us or calling us at 888-758-3641. Louise@TrollbeadsGallery.com. We will supply further information on its creator, very talented Danish designer, Thor Hoy and photos of each side, on TrollbeadsGallery under "What's New" the second it arrives. I will post the price when I get it!!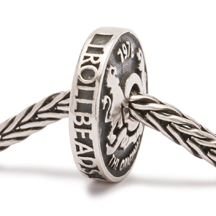 The next release and one everyone has been talking about is the set being offered to raise money for Breast Cancer Awareness. There are going to be 2 versions of gift sets. Everyone has been discussing this because it is a fund raiser that is close to our hearts but also because the Pink Prism, as in the older version, is a part of it too. The release will inlcude 2 versions. One set is the ring "Strength, Wisdom and Courage" ring sold with the Pink Prism at $225.00 and the second set the ring is sold with the "Rose Ribbon" Trollbead and is $99.00. Both Sets.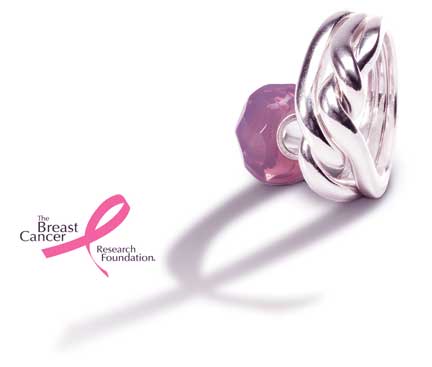 The above photo is the ring and the pink prism.
Other news-the new autumn beads are really phenomenal and if you haven't seen them check them out here!The Autumn Collection 2011