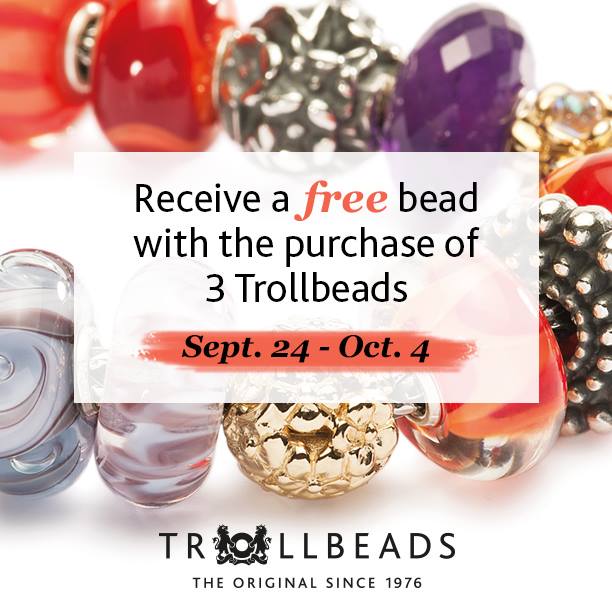 Starts on September 24 and continues through to October 4!!
For the first time ever the special will be including the Silver and Bronze Links and Locks from X Jewellery!! So whether your poison is beads or X or both we can help you save!! We are very excited about this X Jewellery inclusion as we know many Trollbeads collectors have been waiting to get started on X Jewellery and now this is your opportunity. Two examples of completed bracelets are shown below! Check out the whole line of X links on our site through the link below!
X Jewellery at Trollbeads Gallery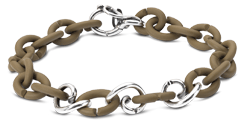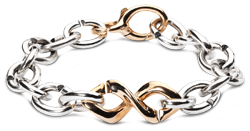 We are thrilled that this special will coincide with our Trollbeads Fest! 2015 Event which is October 2nd & 3rd but if you can't make it to our event you can order on-line very easily or call us at our toll free number!
888-758-3641 Please feel free to contact us to help you get the beads and the X links you want!
If you want to order on line just purchase the beads and links you want and list your free items in the notes section at the time of check out. BUT...if you are choosing a unique bead(s) as your freebie(s) please call and let us know so we can take that bead off the site to hold it for you!
Our 6th Annual Trollbeads Fest! 2015 is coming up on October 2nd and we are very excited about the 250+ Unique Kits we will have on hand to share with you. We will also have many of the new beads in stock in high multiples so you can have you choice!
The Autumn Trollbeads release is one of the most popular we've experienced in a long time so the experience should be very enjoyable! The earlier Fests were large events and not as intimate as your typical Trollbeads Gallery/Rogers Gallery experience should be. We are proud with our smaller and more effective event! If you have decided at this late date to join us please let us know and we will help find you lodging!
There are many fun reasons to attend as we have gifts with purchase (only at the Fest) and we have a gift for you for coming. At 4:00 on Friday we will be serving wine and holding our yearly Charity Drawings for great beads and other Trollbeads related items. So make it if you can and if not place your order on line!!
Gail Crossman Moore, glass bead artisan, will be demonstrating her bead making skills on the second day of the event, Saturday October 3rd. Her beads will be available through a drawing held at the end of the day!
Please note that we are going to be lisitng a lot of unique beads in the next week to get as unique beads available to you for this event! So check back through out the sale dates!
Last year images from Maddog! (Thank you)