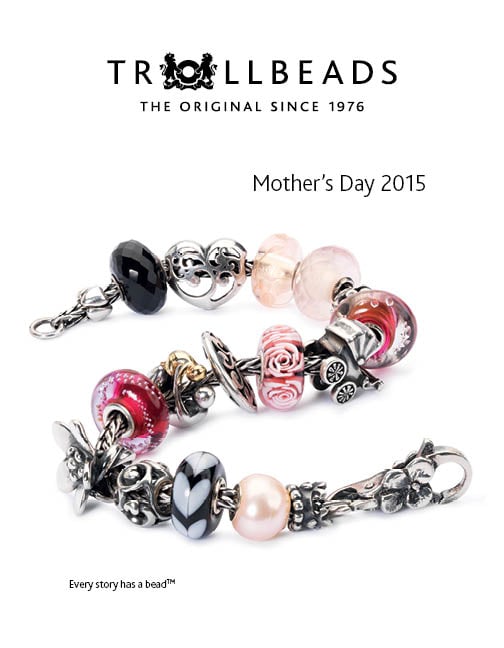 The 2015 Trollbeads Mother's Day Collection is now available and will start shipping on Friday, February 20th. It has 3 new beads starting off with the stunning "Mother's Rose" a glass bead with delicate roses within the bead. It shows the depth originally seen in the "Ageless Beauty" bead but in a light to medium pink and filled with soft petaled roses. Roses are such a great flower to present on Mother's Day and why not do it with roses that will last forever? The second bead "First Signs Bead" was released earlier as a gold bead but now we have it as a silver bead. The detail in this bead is typical of all most all silver and gold Trollbeads. The third bead in this Mother's Day Trio is the "Mother's Garden" a bead yet also a Fantasy Pendant that can be worn on either the Fantasy Necklaces or a bracelet as a bead fits within the "Mother's Garden". The photo below shows how the "Mother's Garden" can be used on a Trollbeads Fantasy Necklace with the "Mother's Rose" threaded inside the pendant. The look is soft and feminine. The "Mother's Day Trollbeads Release" is always a bit early for Mother's Day in the U.S. but it is celebrated earlier in Europe!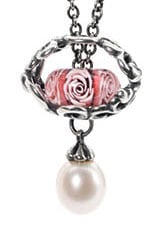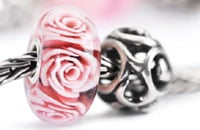 The next release due out from Trollbeads is to be released on March 6th and is The Trollbeads Good Luck Starter Bracelet Kit. Just think of all the people you could give this great kit to! Anyone starting on a new endeavor-a new job, a new baby, a new marriage and most appropriate would be as a graduation gift! At this date the starter bracelet is only available as a kit and includes a Trollbeads bracelet chain, a lavender glassflower bead, a silver bead and a GREAT new lock that has a Ladybug and a leaf on one site and flowers on the other!The details are indicative of all the designs we have enjoyed from Trollbeads for over 36 years. Just look at the great designs below.

Because the silver bead and the lock both have intricate details I have provided more images to show the details!!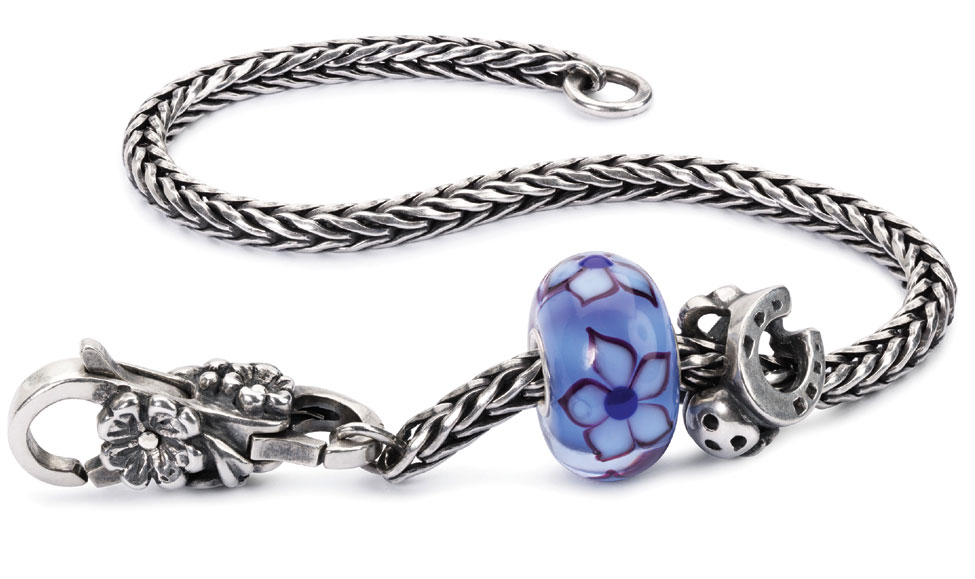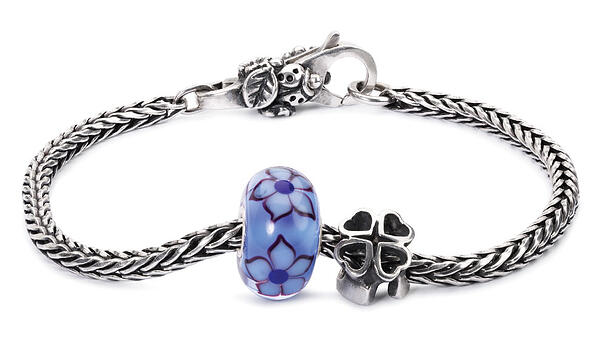 You have to admit that 2015 is off to an awesome start! It is only February as I write this and think of all the beads we have been blessed with in 2015! The Valentine's Day Release, the "Trollbeads by X" Valentine's Release, the Polished Fantasy Necklaces, the 2015 Spring New Horizons Collection and the Mother's Day Release , the Good Luck Starter Bracelet Kit and this isn't even mentioning all the great new Unique Trollbeads we have seen since the beginning of 2015! Swans, Musical Notes and so many more!
2015 also happens to be my 10th Year selling and collecting Trollbeads and I have to admit it has been a wild and wonderful decade!! More to follow!