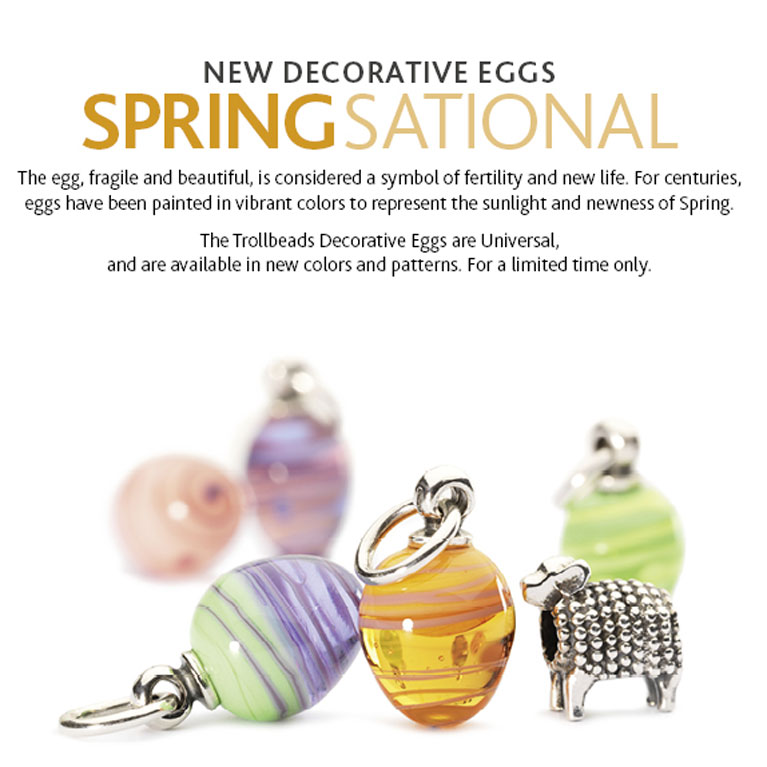 Friday, March 8th Trollbeads released it's second Limited Edition Easter Egg Release! Last year Trollbeads released the Easter Eggs with polka dots in pastel colors. They were so well recieved that they have created a second limited edition release with glass eggs and this time the eggs have thinly applied stripes wrapping around the egg with each egg being one color and the stripes another color. The drop bead has become very popular in the past year with the very popular Christmas Ornaments, the heart Drops for Valentine's Day and now the second edition of the eggs for Easter. It shows you that people love the drop Trollbeads! What a great way to enjoy the holidays! All of the colors, as again, are suitable for your Easter jewelry designs. I think the original popularity for the dangle style Trollbeads came out when Trollbeads created a very limited edition of unique dangle beads for the Netherlands year ago. We have seen a few come up in photographs on the forum from time to time and we always drool. I am very lucky to have a very pretty one in my Trollbeads Museum.
The Limited Editions are the releases that keep collectors searching for just the right colors and us retailers busy trying to find you all just what you want. With the Easter Egg releases there have been 8 basic colors offered but then there are always a change of tones or stripes to make some more unique than others and last year with the polka dot Easter Eggs the dots were unique and that made some of last year's Eggs more unique than others.
Below you can see a use for the Orange Easter Egg that makes it quite unlike Easter but you can see the many uses beyond what the holiday usually calls for. Adding the Egg to a Bangle bracelet adds so much to the design and it adds movement that the Bangle wouldn't have otherwise!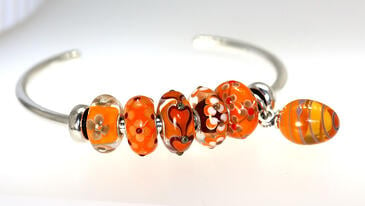 Saint Patick's Day!
Another holiday to celebrate with you Trollbeads is coming up before Easter and that is...St.Patrick's Day! So hunt for your favorite green beads and dress-up for the luck of the Irish. What are your favorite green Trollbeads? Green Wave? Forest Anenome? Forest Flowers? Don't forget all the wonderful green unique beads we always have listed too! You can always find treats there if you need something unique and special! Green Unique Beads.