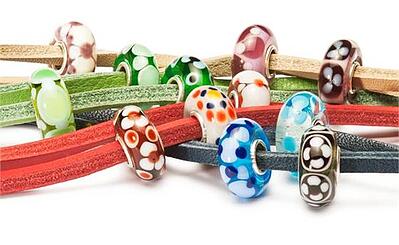 The newest limited edition beads released by Trollbeads are the Malawi glass beads. For Trollbeads this is another more effort by the Aagaard's to use their talent, their ideas and their where with all to help a country that is in great need but the Aagaard's take it further to a whole new and very essential step.
Just as Trollbeads brought a self sustainability to the Tibetan refugees living in diaspora in India they have given the people of this community in Malawi the tools, the studio and the training to allow them to move forward. With this gift they can work to sustain their families in a culture so in need of this. I can't imagine a gift to give back more effectively than this. This particular group/release of beads is limited in number but they are already creating unique beads for us in many other diverse designs so although this release is limited the craftsman of Malawi are working hard for their future and for the future of our collections!
To understand the endeavor in full here's a little background information on Malawi for you. Malawi is a country in Southern Africa that was originally colonized by the migrating Bantu peoples in the 10th century and in the late 19th century they were colonized by the British but then again in 1953 by the CAF, the Central African Federation and in 1964 the land was given independence and called Malawi. The country is very pro Western and has a working relationship with many independent countries. Malawi is among the least developed countries and has a very low life expectancy but while the government is working on increasing healthcare the people are in dire need of finding ways to sustainability and what Trollbeads has accomplished is something that makes us all so proud to be a part of this organization. This past month top retailers were awarded Hero Awards from Trollbeads and while very meaningful to the winners, in reality the Aagaard's are the true heroes here, over and over again. Below is a photo of Lise and Isabel Aagaard on one of their visits to train the glass makers. Look at the beads they are all wearing! The smiles they are wearing are as broad as the horizons these people are now seeing thanks to Trollbeads and in a very small way we are a part of this. So buy your Malawi Trollbeads and wear your Malawi bracelet with pride! The dresses both Lise and Isabel Aagaard's are wearing were made in Milawi as was the fabric. Look closely and you'll see colors within the natural dyes that they have brought out in the Malawi beads!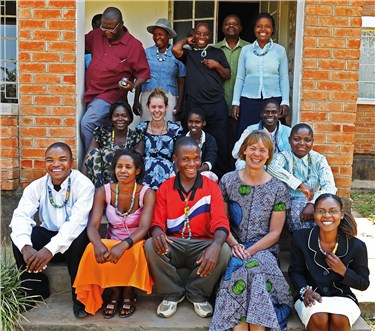 I am busy listing the Malawi Trollbeads and will continue to do so for as long as I can get them! You may have noticed the beads come in a number of designs and the designs come in multiples so if you missed a bead you wanted it may just come around again!
In a description on the Trollbeads retailer site:
They are young, artistic and surrounded by an immense mix
of colors. the talented glass artisans from Malawi create the most
intricate and playful glass beads. each of the beads' inspiration
can be found in the everyday lives of their designers; from a pattern
of a woman's vibrant dress on the street, a combination of exotic
fruits in the marketplace, or a peculiar flower in the grasslands.
once trained by Lise Aagaard, Trollbeads, these skilled artisans
are now running a flourishing business by designing glass beads
for collectors across the world.
The Trollbeads project in Malawi was set up in late 2010 with the goal of helping the challenged youth of the African country. Using the same overall formula as with a similar project in India, Trollbeads gave a group of young men and women the opportunity to learn the artistry of making glass beads over an open flame.
Besides providing financial backing for the project, Trollbeads also trained the staff in all aspects of running a successful jewelry business, including supply-chain management, production, design, and marketing.
Today their local operation employs around 12 people and is on the way to becoming completely self-sustainable.
From Trollbeads
Our Responsibility
"At Trollbeads, we believe in two things;
operating from our hearts and maintaining
a social responsibility. These values are
essential factors for us when running a
global business, just like they were when
we first began selling beads from a small
store in Denmark over 35 years ago.
As we have grown, we have embraced
new sets of challenges and opportunities.
One of these has been to help people
in developing countries in setting up
self-sustainable businesses of their own."