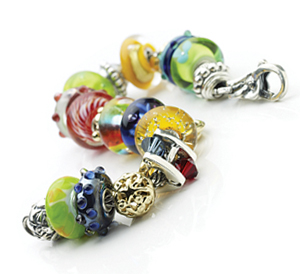 July 7, 2014
The Trollbeads Collector Dream Sale has just completed its first week and it was a fast, fun and furious week at Trollbeads Gallery. There have been such great buys and great choices by collectors taking advantage of 25% Discount and I've enjoyed seeing the beads people are scooping up!
There have always been bead retirements at Trollbeads which means in the many years Trollbeads has been around there are many,many retired beads the new collectors have missed out on while trying to purchase the current beads in the line. This sale has given collectors the opportunity to catch up and buy the retired beads with a competitive edge. The World Tour Beads are especially a wise purchase now. We are sold out of some of them but have many styles left as we purchased a great amount when offered them this year. The Netherlands Orange Bead (Orange and Gold), The Hong Kong Skyline (dark blue & glitter) and the Mountain Crystal are all great beads to have and at only $23.25 make sure you have them in your collection. The Mountain Crystal is a crackled stone bead in clear and white so it's a beautiful neutral bead easy to place on so many designs. We also have the Frog Prince at a savings of $17.25 makes a large bead affordable at $51.75! I have always loved the more textural silver beads from the World Tour Beads such as Van Gogh (a silver bouquet of sunflowers) and the Edelweiss from the Swiss collection. I am reminding you of all these great beads so you don't have this opportunity slip by you. We all get so busy in the Summer so make sure you check out all of categories!
First Week Best Sellers!
Sale Unique Beads- Of course this would be a best selling category as we have a lot listed in the older uniques because I have always had an enormous inventory of them and I am listing new ones every day. We have made it quite simple with a category JUST for Sale Uniques!
Nightingale- A retired Gold and Silver bead and a great one to pick up know with a savings of $65.00 bringing it to $195.00. Check this bead out if haven't as the detail is stunning.
Joyful- This is a re-release of a retired bead and a limited edition release at that! A nice round bead with a happy attitude and the savings are $17 selling for $51.00. I think the people buying this bead are adding a second one to their collection as it's a nice large round bead and adds a lot to every bracelet!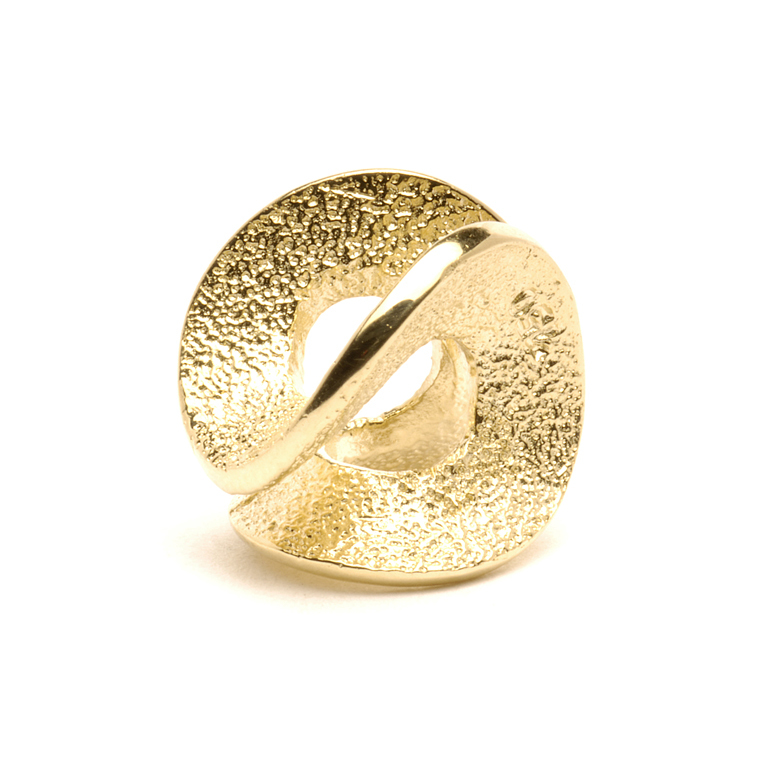 Gold Beads- We are happy to report that both large and small Gold beads are selling. They are a big reach for all of us to attain and the sale helps! They still remain a cherished part of the collection and while they are on sale -it's the time to jump. We still have one retired Gold Scarab left and one Retired Gold Jugend and these are the largest of the gold beads. The Gold Wisdom was someone's choice to be worn on a gold Bangle. I know quite a few people who are very happy right now!
The Gold Endless (shown at the left) is a great buy right now as you can save $117.75.
If you are reading the sale news for the first time I should mention that the sale is for all beads released before Autumn of 2013 but that leaves you with many choices!!
We have all heard there is going to be a price increase in August so now is the time to pick up those Trollbeads with a discount! Happy Shopping!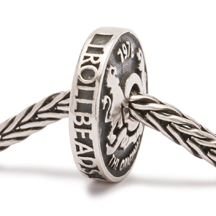 If you have any questions please call us Toll Free at 888-758-3641.
If you missed out on the small Tranquil Fantasy Trollbeads we jsut got more in! If you are interested give us a call!
Click here to purchase! Tranquil Fantasy Bead