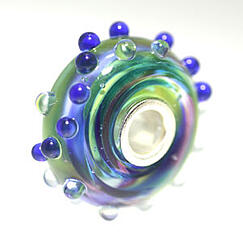 Yesterday I made our newest category on Trollbeads Gallery go live...and within half an hour 14 Trollbeads had been sold! With no notice my very quick customers caught on and took advantage of a new product category created JUST for Trollbeads collectors who can only shop via the internet.
"Trollbeads:With a Twist" is the name of the new category and that is exactly what it is. They are standard glass Trollbeads that have some noticeable difference from the bead it is supposed to be. From color, design and size! The really big versions or small versions of the standard Groups 1,2 and 3 will also be included in this new category. Have you seen those great Azure Bubbles with green streaks or the Blue Deserts that are red or even yellow? The Trollbead to the left is a striking rendition of the new White Cap Trollbead. How about the Khaki Stripes with Pink in the khaki area? I know for a fact that many collectors who are close to Trollbeads stores love to collect these beads and go around hunting for them. Notice the pink in the Khaki Stripes below!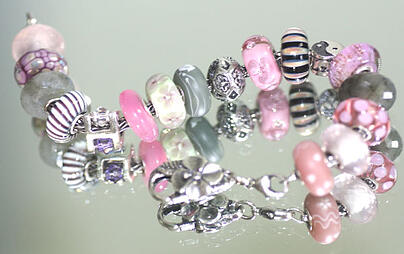 Whatever the bead is the price is it's original retail price. Also shown here will be the precious stone beads that are very light compared to the standard stone bead or very dark. The extremes of the stone beads makes them beautiful when used all together. The dark Aventurine looks like deep emerald.
Another precious stone Trollbeads to keep your eyes out for is the very light Golden Quartz. It looks like a yellow sapphire! The one below is a beauty but they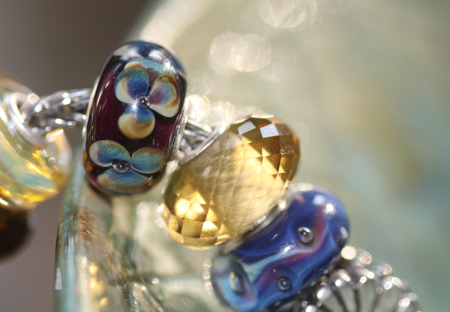 come in even lighter than this one!
The beads like Azure Bubbles (above) are good to buy from this category because where they are all so different at least you can choose the one you want. Do you like it with brown? With Pink? With light green? The Blue Desert (below) is certainly a beautiful bead but it definitely is not blue! I will be posting more and more beads here so stay tuned!