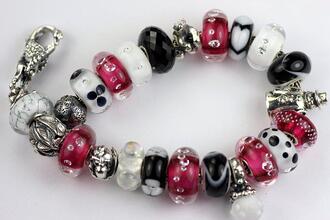 The NEW beads are in!! The Trollbeads new 2010 Winter bead release includes a wonderful group of wintery themed beads just perfect for the blustery days of winter.
I couldn't resist using as many of the new "Pink Diamonds" Trollbeads as I could feasibly manage. They came in this morning and I love them! You can see the new "Ice Bear" along with the "Snowball" . The "Ice Bear" was the winning design for Trollbeads 2010 People's Bead Design Contest. Kristi Denning of Maryland won first place with her delightful bear design. Kristi received an 18K Gold "Ice Bear" as a very special gift from Trollbeads. The first People's Bead Design contest was last year and was won by Suzanne Hopping of Australia for her "Pax" bead. Susanne also received a Pax bead in 18K Gold and having seen it in person during Trollbeads Fest!, it is exquisite! I have included the "Pax" bead in the bracelet above so both winning beads could share the stage!
Along with the new release Trollbeads there was also a beauty of a limited edition release of two glass sets "Christmas in Australia" and "Christmas in Hawaii" and they offer everything we all love in the glass Trollbeads.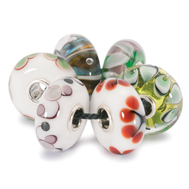 Trollbeads Gallery will soon be offering these limited e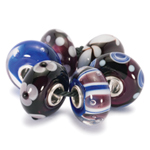 dition Trollbeads individually!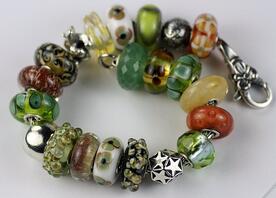 You can see two of the Trollbeads from the "Christmas in Australia" set on this bracelet along with the new "Sparkling Star" bead. The stars reflect the light beautifully!
Trollbeads did it again, another huge winner of a release! Thank you!!