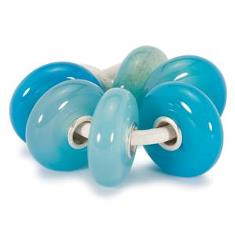 With the introduction of the Spring 2011, Trollbeads also released a limited Edition at the same time. The Limited Edition was Agate beads, in Pink and in Turquoise. These beads were very unlike the Crazy Lace Agate Trollbeads released in 2010 so the release was brand new and totally unexpected. These Trollbead stones are finished with a very high polish and are very smooth and have similar outlines to the Jasper and Picasso Jasper Trollbeads. No facets just smooth rock. The two colors also came in 2 choices, solid and striped. While the solid Agate Trollbeads offer you a very drenched color, the striped Agates add pattern and intrigue to your jewelry. Once again a hard choice to make and my advice would be to choose what you like and decide where you will use them later. Photo below and the set at the end of this post shows a solid Pink Agate and the set at the top shows the solid Turquoise set.

Collecting Trollbeads is always about choices but making decision based on what other beads you have to use it with will stifle your collection. Think about your Trollbeads collection as a painter's palette, one you have all the colors spread across, and start from scratch designing new creations. Ok, now think about the beads you said no to because they just didn't work with what you had? Your palette would be boring and you chance at self-exploration would once again leave you once again at the boredom door. Is this where you want to be? No, I know you don't because if you did you'd be collecting some other bead brand! So go back to your local dealer or back to the website of your choice and choose the wildest of the Agate Stripes and know your collection will always lead you to exciting places where you can reinvent yourself through Trollbeads!
The striped Agate has a very interesting story behind its development. Like many of the interesting varieties of stones, Agates are formed from volcanic activity. There are nodules or cavities within volcanic rocks that have had layers of silica type materials have form in regular spaces and some are thin and others wide. These agates when cut opposite to the grain, or transversely, shows the layers as they occurred in time and it is these layers that give our Striped Agate, its name. Hold the striped beads up to the light and you will see the light through the bead.

(Notice the bead to the right.)
The lighter silica striations go from white to a cloudy but light clear. Sometimes called banded Agate, it is the most exciting to me as a Trollbeads dealer and collector. When you look at these new Trollbeads remember to purchase for its beauty and then be concerned as to how you might use it. Don't give up the chance to own something so strikingly beautiful because you are afraid of its use.
For interesting ideas of what to use your Agate LE Trollbeads with join us on Trollbeads Gallery Forum and see what collectors are doing!
Also join us on Facebook and continue your Trollbeads journey by learning and seeing what the rest of the world is doing with their Trollbeads! http://www.facebook.com/TrollbeadsGallery