Trollbeads Limited Edition Summer Stones
The Trollbeads Summer Stones are now out and these beads have been selling like the proverbial hotcakes! The Trollbeads stones have always been popular with certain collectors and now with this limited edition release many collectors who missed out on the European release a couple of years ago are able to buy and buy at a lower cost. At $31.00 a bead these have been very well received. People love the uniqueness of each bead and love the saturation of true stone color that highlights these beads. The release has been so popular Trollbeads US has run out of their initial allotment and are receiving new batches from Trollbeads Denmark daily just to keep up!
The Summer Stones have been released in Kit form to retailers around the globe and most retailers are cutting the kits offering the buyer their choice of stone. So far at Trollbeads Gallery we have sold more Amethyst beads but as time goes on we will see how the stones far on the whole. The kit includes 6 stone beads including African Amethyst, Dalmatian Jasper, Canadian Jade, Red Mud Jasper, Rhyolite and Zebra Jasper. From what I can see so far the bead with the most variation is the Rhyolite but the Red Mud Jasper too has varying shades of red, brown and orange.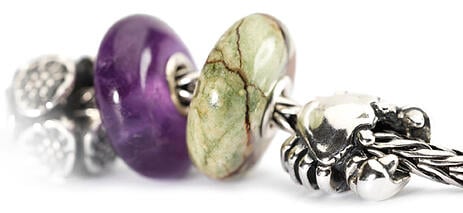 African Amethyst: In the world of art Purple has always been the color of inspiration and individuality. As a stone Amethyst helps us understand that the limitations we place on ourselves are the hardest ones to overcome and the hardest to live beyond in order to mature and grow. Trollbeads has always offered a great variety of purple glass beads so there will always be beads to use this with. If you have the faceted Trollbeads Amethyst this stone will go with it beautifully as stones that are smooth versus the stones that are smooth each highlight the stone in unique ways. On a Trollbeads Bangle bracelet I can see having a faceted Amethyst bead in the middle with a smooth African Amethyst on either side.
Dalmatian Jasper: For a patterned bead this is the most consistent of the beads. It features light brown or darker beige and like the dog that shares its name – it is a symbol of loyalty. Dalmatian Jasper is a grounding stone, bringing to its wearer a sense of calm and tranquility.
Canadian Jade: What a beautiful Jade this is. We have seen a variety of Jade come through Trollbeads but this Canadian Jade is so pure in color. Jade is said to bring mental agility (I am planning on filling a 32" necklace with them and see if it works) and to have a balancing and harmonizing effect.
Red Mud Jasper: What a unique bead this one is! Much loved for the warmth and colors of the Trollbeads ambers and I have found the longer the collector has been buying the more they like this stone. It is a stone of protection, stability and strength. It is supposed to balance emotions (but what fun would life be if it actually did this?) and increases your connection with the earth. It is said to bring positive energy and joy into your life.
Rhyolite: Now this is my personal favorite! But I am a big fan of green. Rhyolite is a stone that helps us live in the moment instead of the past. It is capable of improving our ability to deal calmly with challenging circumstances and it helps make us aware of our own strength.
Zebra Jasper: Although we have the faceted version this is a much more affordable bead and if you are lucky enough to have the faceted version these will look great with it. The pattern on the Zebra Jasper, like the other jasper stones, is very organic and every bead is a special unique.
On our Trollbeads Gallery Forum there have been some very inspiring uses of the new Summer Stones so if you haven't yet discovered the forum please join us and see what other collectors are doing with their Summer Stones. It's fascinating and fun! Trollbeads Gallery Forum (click on link)