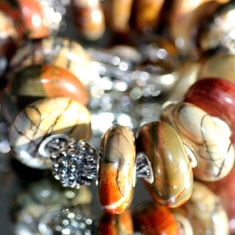 It has been quite a while since I have written something about Picasso Jasper and now that Trollbeads is sold out I thought it a good time to tell new collectors about it and remind the old collectors to get it now before it is totally gone!
The Picasso Jaspers were released late fall and they are soon to become very hard to find. As usual I hoard limited edtions and I purchased many Picasso Jasper beads because I knew they were very limited but also because I love the natural stone beads and the look is so great.
Picasso Jasper actually comes from a crystal. It seems hard to believe but this kind of crystal produces other visually abstract forms of stone such as Malachite. Sometime referred to as Picasso marble, the Picasso Jasper comes in extraordinary abstract patterns and wild veining and this attribute is what makes it so exciting to collectors of Trollbeads. Like miniature aerial photos each stone appears to have streams, fissures and lakes. Look into a Picasso Jasper and see what you can see, it's rather like finding things in the clouds. During the creation process the stone goes through metamorphosis and is changed by natural occurring temperature changes and pressure. These processes are what cause the graining and color changes that can occur with one stone.
Like all of the natural stones, the Picasso Jasper is associated with energies and healing. The stone is reported to attract people who see things the same who then in turn become close friends. It can also be the catalyst that heals a broken relationship. If you are an artist and feel a block on your creativity just meditate on the designs of your Picasso Jasper and follow the paths upon the stone. It is believed that you path will open up before you.
Are you wondering where the stone got its name? It resembles Pablo Picasso's abstract painting style with it lines and quick changes of color. I see other artists in the different beads too, Alexander Calder and Georges Seurat just to name a couple.

Bead at left reminds me of Seurat's pointilissm.
Bead at the right reminds me of Calder's forms!
Trollbeads Gallery had just listed more Picasso Jasper and will continue this as I have many stashed away!
Always take a good look at all of theTrollbeads Limited Edition
offerings as once they sell out they are gone!