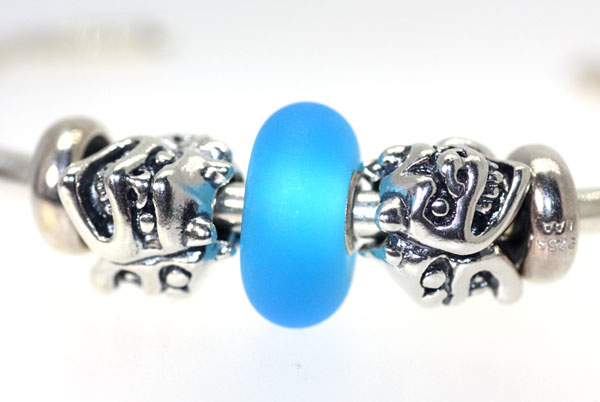 Our first Trollbeads Day is now a day behind us but the spirit of the day and the spirit of Trollbeads activities continues. We had such a positive day celebrating the premier of all bead brands and cheered in the knowledge the future of Trollbeads looks exciting! Kicking off Trollbeads Day was the unveiling of a long awaited bead, The Trollbeads Day Bead!
I have been surfing through the internet looking at photos of the day and wish I has been able to photograph some of the activities but I am afraid we were short handed and I was one of the front sales people during the event and never got my camera out! As I mention on our Forum, Trollbeads Gallery Forum, I really regret not getting a photo of Penni as she was leaving for the Post Office with two bags full of orders! We sold through well over 100 of the Trollbeads Day Bead and just hope we are getting more than the 25 I have one order! TrollbeadsUS is apparently out of them. I am so happy for all the collectors that was able to claim one. It will be a historic bead and one that should be in everyone's collection.
The Initial Controversy:
When the beads first arrived I was tentative at best not knowing what the bead's meaning was. If you don't know the story behind it and its wealth of tradition in the Trollbeads way it may seem a bit off-putting. The description I received is below. When I was sent the description and the story I grew to love it as I love so many other of the "Troll"beads...(beads with Trolls). Soren Nielsen who made the actual first Trollbead over 3 decades ago designed this bead to best reflect the spririt of Trollbeads and that he did! The collectors that are particularly fond of this bead are what I call core-trollies. The collectors that love the funky, the fantasy and the spirit of Trollbeads. At first I was thinking that this bead will separate the men from the boys in the Trollbeads world and by this I mean the true Trollies versus the people who love only pretty beads but I am thinking this doesn't give enough credit to the collectors that chose not to buy the bead. We all have different styles, different perceptions and different ways to express ourselves and as with any Trollbeads either you love it or you don't! It is that simple. We only had a couple of cancellations after the pre-orders and for the quantity of orders we has that was very low.
I am interested in hearing about how it's been accepted in other countries and I hope that it has done as well around the globe! Any feedback please let me know.
When I set out to photograph the bead for this blog my initial thought was to feature them on a Bangle but had to find a bead that would be as unique as the the Trollbeads Day bead and I chose a very special bead Lise Aaggarrd sent to me as a gift. She knows I love sea glass and created a bead with a frosted surface, similar to sea glass. Just a brief explanation of what the top photo is.
Now the photo below has a connection for me but it does look a little silly but every Trollbeads has meanings to each of us individually! Two years ago Soren came to our Trollbeads Fest and at the time came to my house. We showed him my jewelry studio where I make sea glass jewelry and in my studio he saw my Antique Doll House and he got a kick out of it. The tiny details must have spoken to his sense of miniature as he carves in miniature wax when he created a bead. So I have the Trollbeads Day Bead sitting in a miniature antique Limoges bowl! What a perfect blend of perfection...Limoges and Trollbeads. I hope Soren will see this funny photo and enjoy the juxtaposition. It almost borders on bizarre as it looks like I am about to serve Troll stew but I kind of like it. Trolls love to have mischievous fun as I do!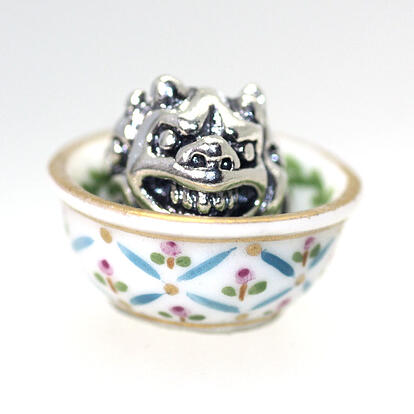 "This is SO Trollbeads! It has trolls. It is from the very first designer of a Trollbead, Søren Nielsen. It has the emotions of Trollbeads. Intensity. Friendship. Joy. You choose which troll is which word. For this is what Trollbeads is all about: individuality, creativity and wonderful imagination."