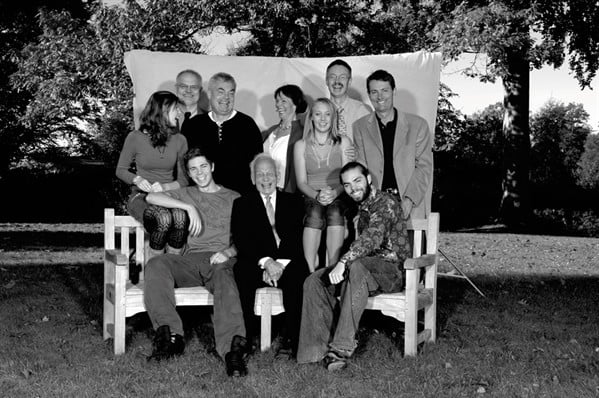 Shown above is the Nielsen and Aagaard Family
This article has been written for you the Trollbeads collectors, to keep you informed about last weeks procedings between Trollbeads and Lund Trading. Don't fear the changes, celebrate them! As I write this I am sure many other changes will occur before all is settled and I will report them to you.
As many of you know there are many changes in the air for Trollbeads and for its U.S. retailers. On Tuesday, January 31st U.S. Trollbeads retailers received a letter from Trollbeads Corporate explaining they would be taking over the distributorship for Trollbeads in the U.S. and ending their relationship from Lund Trading as of January 31st. You can imagine as retailers we were very concerned as to what this would mean for the future of Trollbeads here in the states. I personally needed to have more clarification before I was certain the transition would be smooth and without any legal ramifications. As retailers we have been working closely with Lund and have enjoyed a positive working relationship with the office support staff so the change has sent unsettled feelings though many retailers. We needed more information to understand the reasons and the purpose for this drastic change but with the new bead release in the balance retailers were in a very difficult position. Hour by hour we tried to work out what the best course would be. Some retailers placed the new bead orders with Lund and some went right over to Trollbeads without looking back.
On Wednesday we received a letter from Lund's attorney telling us, in brief, their contract with Trolllbeads was still in place and would be until 2014. It went on to say that any attempt by any third party to sell to us would be dealt with by legal proceedings. For retailers the legalese came across as threatening and at this point I was contacted by other retailers worrying as to the seriousness for them and for the orders they had place with Trollbeads and did these orders place them in legal liability. In reading the document over while it felt threatening I believed the warning was only meant for Trollbeads. It was also the next step any attorney would have taken at this point.
Still at a point of not knowing where to turn and whose allegiance we should place out trust in, Lund took action and placed a temporary restraining order on Trollbeads at the a state level. Trollbeads was in the position of having to send a letter through their attorneys, to retailers explaining due to the terms of the court order we were not to contact them in any way and vice versa. Once again retailers were sent into a tailspin not knowing where the new beads would come from and if they would come at all. It was my feeling that Lund had determined that the well -being of its retailers was not its main concern. The letter from Trollbeads attorneys explained in greater depth the reasons what led Trollbeads to break the contract with Lund. Among them being the owner of Lund, he reportedly had made secretive actions to create his own brand of beads while having parameters within his contract not to be involved with any competing companies. In essence we were brought into the loop and given the respect due to us as the main vehicles that drove Lund to the success that it had within the U.S. It wasn't much to ask and Trollbeads showed us more respect in what was only their second communication, than Lund had in all of our years of dealing with them. The letter went on to propose that in creating and producing his own line of beads, Lund's owner had not only ignored the terms of his contract but he used information he received from Trollbeads to do so. So there we were as retailers with no clear captain at the helm and I can say for myself as aTrollbeads retailer for 4 years and as the top U.S. dealer as I write this, I was extremely concerned and lost a lot of sleep. We were assured this order would be dissolved but when? Courts can take all the time in the world.
On Wednesday night, February 2nd we received a letter from Trollbeads telling us a Federal Court judge dissolved Lund's restraining order with lightning speed. Trollbeads United States would immediately commence with the shipping of new beads. It was great news but tempered by the fact we also know it may be only until Lund can come up with another blocking tactic. In the long run it is evident who will be the victor but the turmoil Lund has involved us all in is not right. It was between Trollbeads and Lund and the retailers should not have been dragged into it.
This change was more than necessary and it will mean great things for Trollbeads dealers and collectors in the United States. The visions the Aagaard's have for Trollbeads and what it wants to invest in marketing will make the company so much stronger and it's visibility in the U.S. will rise to where it should be and for this we should all be excited. What we will be a part of is a whole new generation of the Trollbeads evolution and of the Trollbeads family. Trollbeads-United States will be managed and run by Lise Aagaard's (CEO of Trollbeads International) 2 sons, Robin and Nicolas and her daughter Isabel. For a short term they will be directed by Lise's husband Peter, who will stay as long as the transition requires the added and experienced management. All of this is very important for me because this familial continuity is why Trollbeads stands so far above all the other interchangeable bead brands. The endless fount of inherited creativity along with the steady steerage by the Nielsen/Aagaard family exhibits a perfect balance between artistry and business acumen. Earlier generations have created, nurtured and maintained this brand and with this next generation, it will continue to thrive and offer their collectors an even greater depth of Trollbeads development.
To see the new 2011 Spring Trollbeads Collection follow this link.