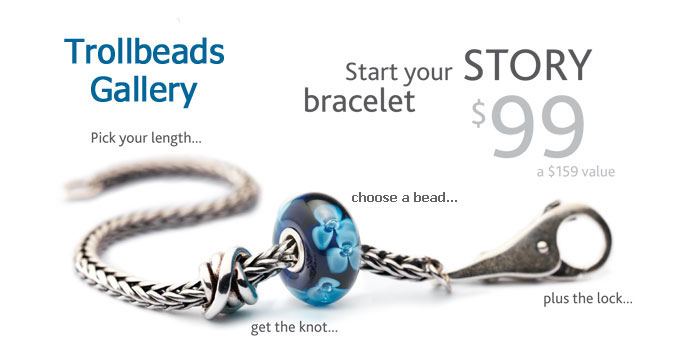 As many of you know Trollbeads Dealers in the United States are permitted two special offers at any given time. In the past we have offered $100 off Gold Trollbeads and $50 off Silver/Gold Trollbeads as one of our specials. Our other special is to offer a free Trollbeads silver chain, which is a $46 savings when you purchase any lock (excluding the tiny one) and this special will remain the same as it is extremely popular given so many want to keep a design as is and start with a new chain each time! As we have stopped offering the Gold and Silver/Gold bead discount we are now very happy to offer the "Start Your Story" Special.
This is a great way to start your friend on a Trollbeads bracelet as the savings is so great at $60!! With this special you get the Trollbeads silver chain, a sophisticated Plain Lock, a Lucky Knot Trollbead and a Group 1 Glass bead of your choice! Look through the Glass 1 Group Trollbeads (all $31 glass beads)and see if there is one that reminds you of a friend. I can find many I know would be perfect to start my friend's story or one to start a new story for myself and below I offer you 6 examples from my own experiences!
1.Fireflies During the summer my friends and I would go out at dusk and hunt Fireflies with small glass jars. I remember poking holes in the top of the jars to let in air. We would bring them into our bedroom and turn off all the lights and just stare at them until we fell asleep. In the morning we would dutifully let them go but the memories live on. I now enjoy doing that with my grandsons.
2.Beach Ball Close your eyes and think about when you got a new Beach Ball. Take a deep breath and I'll bet you can still smell that brand new plastic Beach Ball scent. I can remember dodging the balls in the waves as we either threw them at each other or away from each other. I'm sure you can think of a friend who would love this memory awakened for them!
3.Lucky Clover I can't tell you how many hours I spend lying on my stomach searching for 4 leaf clovers in my childhood. I guess I even had an inordinate passion for detail then too! I had one friend I could definitely share this Trollbead with as her yard always seemed to have a great quantity of them.
4.Rose I'd have to say that this bead brings me back to my own back yard and I'd have to share this Trollbead with my sister. We were paid 5 cents for every Japanese Beetle we could catch in out jars. From the red and pink roses to the Rose of Sharon we would test our competitive nature while we made our candy money.
5. Beach This is probably the most popular bead for the "Start Your Story" special. Beaches for people mean so many, many things. From crazy and wild childhood romps to quite walks in the rain hunting sea glass or shells while sharing a special moment with a friend. I have an old boyfriend that comes to mind with beaches that I could share this with... but my husband might not like it!
6.Lavender Stripe I have this friend and she is totally obsessed with lavender! It's in her house, on her body and now, of course on her wrist!
From just this small group of samples you can see that Trollbeads can mean so many things to so many people and with this special you can draw your special friends and siblings closer by sharing the memories you have together by sharing Trollbeads.
Thank you to Trollbeads for offering this special!
If you have chosen a Glass 1 Trollbead for a friend or sibling with a special meaning behind it PLEASE share it with us in the comments section!