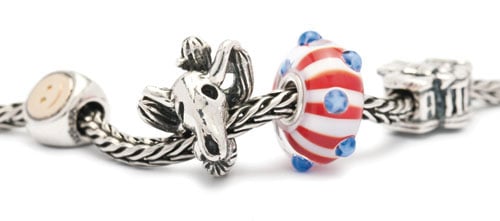 Now that the USA World Tour Beads have been released we can check out each bead and find its meaning for ourselves. One thing I have come to understand is with each World Tour release there are at least 1000 unique opinions per bead! It's the difference of opinions we all share that make Trollbeads such an interesting collection. We have shared our differences before and we can be open about how we feel but as I have said before, as Trollbeads fans we all represent collectors of a great line so we should be fair, even when you feel the bead is not for you. Negativity does not mix with Trollbeads and we've proven time and again we are above that.
So how do I feel about the beads? I think I have to say there is something good in each bead and something great in a couple of them. I adore the Star Spangled Bead! It has such personality and has such wonderful patriotic color. I know from working with customers that there are those of you who love bumps and those of you who don't sounfortunately I think this won't be everyone's favorite. If you are a member of the Trollbeads Gallery Forum (if not you should join!)you can see how people are arranging their Trollbeads using the red, white and blue bead. To see if this bead will be seasonal, we have yet to know.
The Ol' West is a work of art to me. It has that good ol' Trollbeads quirkiness but shows in one bead two of the west's icons. We have a customer that is designing a Ol' West bracelet around this bead and it's been fun seeing what the possibilities are. The retired Cactus, of course! The Sparkling Star, Brown Desert, Stars in silver and gold for Texas, Horses and she is contemplating the ball of yarn to represent tumbleweed! One of the best meanings for me, because I love the artist, is the symbolism in this bead and how it brings Georgia O'keefe to mind. O'keefe was and is one the west's most noted artists.
The White House is well done. There is a lot of detail and I believe artistic license was used to get as much of the architectural detail as possible on a bead but both the back and front are very recognizable. I was one who was happy about the choice because of all the history the White House represents, the good times and the bad.
The Pursuit of Happiness is one bead the vote is still out on. I understand the meaning behind the bead and the shape of the bead as I really like three sided beads. Whether or not the gold was important to it I'm not sure also but there are many Americans that cannot afford this bead and I'm sad about that and what that means. The Smiley face has adisparaging connotation for me because whenever I see one I am reminded of the iconic Walmart smiley face. As a small business owner I have strong emotions against Walmart and what they have done to the landscape of America and to the demise of small town centers across the country. In a way how much more perfect can this bead be? In the Pursuit of Happiness some of have lost the original vision of America.
In closing I think the Aagaards have created a great set of beads for America and as a collector I am proud to own them and wear them!
*To clarify: The "Star Spangled Bead" has the classic size core. This is not a Universal sized core and will not fit other brand chains.