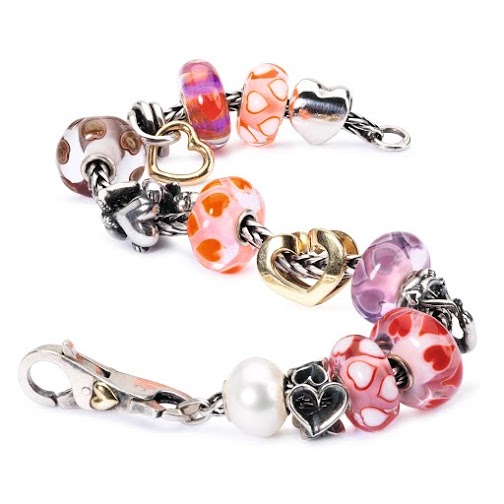 As Valentine's Day quickly approaches I am showing you some of the beautiful beads Trollbeads released for 2015! I have had them on my site but if you are a blog reader and not a site hunter than this is for you! This year we have included all the heart and love related beads in one category so shopping or hunting is easier! Heart beads are not just for February 14th! Surround yourself with love all year! We have even included Unique Heart Beads!! Please check out the category here:
The "X by Trollbeads" Valentine Collection consists of 3 new links. The hot Pink Rubber link has been outselling the two other colors of blue and red but the black is still the favorite! The heart on the left is Rough Romance and on the right Blown Away . As you can see from the finished bracelet the result is rich, contemporary and fun! Now who doesn't need more fun in their life in Winter!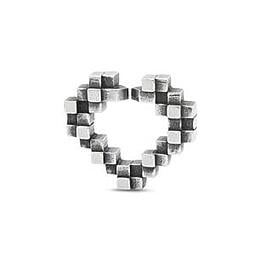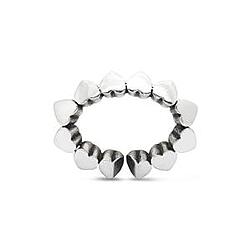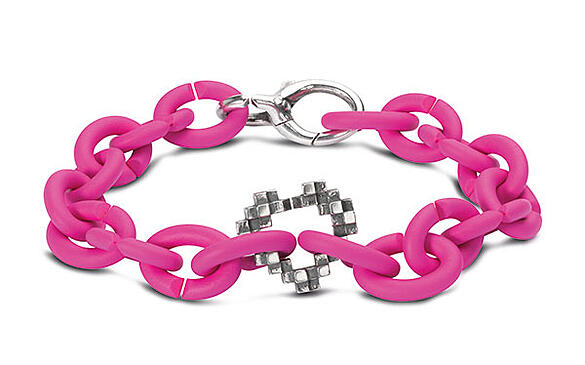 The news about the Polished Fantasy Necklace is great! Due to popular demand we are now offering the Polished Fantasy Necklace in 35" alone so besides the 3 specials we have right now, all offered with a Fantasy Pendant and a bead, you can purchase the

I have been busy familiarizing myself with the releases that are due out for Mother's Day and for Easter along with a "Good Luck" starter bracelet and will soon be writing a Trollbeads Gallery Blog about them! In the meantime start your shopping list for our "Buy 3 Get 1 Free" special coming up on April 10-16. I am very excitng about the year a head for Trollbeads and Trollbeads collectors around the world.
If you haven't yet joined our Trollbeads Gallery Forum - do so now!! A great group of Trollbeads enthusiasts sharing their Trollbeads photos and stories from all around the globe. We would love you to join if you haven't yet and if you have please tell your Trollbeads friends about it! There are now over 28,000 photos there to inspire your love of Trollbeads!