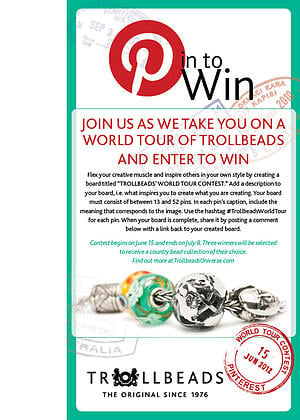 Come one and come all U.S. Trollies!
Trollbeads announced a really fun and rewarding (!) contest. Ok, it was announced a couple of weeks ago & I'm a little behind...but you still have a couple more weeks to go yet! You can win a whole Country set of World Trade beads if you create the most interesting and appealing Pinterest Board totally dedicated to the Trollbeads World Tour sensational sets of beads. Come on you can do it!! If you need an invite for Pinterest please let me know! So many people are loving Pinterest 100% more than any other social site and we all know I never exaggerate...well almost never.
Here's the scoop from Trollbeads! Follow the links for all real details! :-)
Contest Details: We are requesting that you create your own board. A board is a set of pins (pictures) uploaded by you from your files or images found online. Complete details and rules can be found at http://www.trollbeadsuniverse.com/united-states/en-us/pinterest-contest
How to Create a Board: Go to "Add +" option on the top navigation and click. Here, you will be prompted to give a name to your board. Be sure to name it "Trollbeads' World Tour Contest" and hit save.
Go back to "Add +" option on the top navigation and click on "Add a Pin" or "Upload a Pin" and save it to the "Trollbeads' World Tour Contest" board you just created.
Now go get your board going and start by following Trollbeads Gallery on Pinterest because I will be coming up with some fun new images of the WT beads and I can help you! Let me know if there is any questions as I would love to help your efforts!
If you are a member of Trollbeads Gallery Forum we are offering a second chance win post Trollbeads announcement of winning board so stay alert, stay happy and stay pinning!
Trollbeads Gallery has the "Pin It" option on each product page so just go to the world tour beads and start pinning. We have made it so easy for you!

Happy Summer to you all! Warm regards, Louise Rogers
Make it easy (at least some of the pinning) and go re-pin from my page! Follow me and pick up some great Trollbeads images! Look for the WT board! http://pinterest.com/trollbeadsgal/