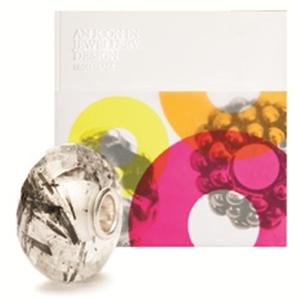 IMPORTANT UPDATE! Books are beads are being shipped to stores next week! Week of 4-16.
We are thrilled to learn the Tourmalinated Quartz Trollbead and the Coffee Table Book, "An Icon in Jewelry Design, Trollbeads" set is here in the United States and will start shipping this next week. The faceted bead and the book sells as a set for $128.00, not including shipping, the shipping cost is $10.50. Authorized dealers are to sell the bead with the book as a set. The bead is featured in the Coffee Table Book. The edition is very limited and this stunning bead will always be a special Trollbead. The stone has also been referred to as a Rutilated quartz although there is a slight difference.
On Trollbeads Gallery Forum our Australian and European members have been highlighting their Quartz beads in their photographs and it is a dramatic and quite unusual bead. I know many collectors will be very grateful we now offered this set. The faceted stones in the Trollbeads line are so rich in color and texture. The small scale facets add a texture and depth to the smooth glass beads on a bracelet.
Tourmalinated Quartz, is a variety of clear quartz with naturally occurring needle-like inclusions of dark Tourmaline or black Tourmaline also known as Schorl. It can be polished to give a very effective look for jewelry purposes.
As with all stones the Quartz has many properties in folklore and in the mystic qualities. Tourmaline Quartz is said to detoxify the body and is used to treat disorders of the digestive tract. Another interesting belief is that it is said to be a problem solver and a unity stone.
The photo below was taken by our Forum member Linda from Australia, thank you Linda!