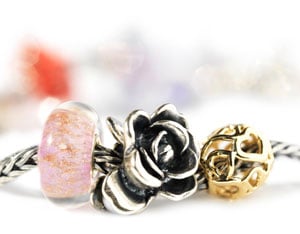 Someone has to speak up. I guess where I have been an unofficial spokesperson for Trollbeads in the U.S. (the company's view anyway) for as many years as I have been a dealer it is up to me. I want to talk about the current state of Trollbeads, what I see happening and what I would like to hear from you.
First of all let me explain why I am writing this. It has come to my attention and to the attention of Trollbeads collectors across the country that a number of retailers are considering discontinuing the purchasing of Trollbeads in their store or already have. I have had a variety of people question me as to why and are asking me what my thoughts are. My thoughts are only about the initial problem as I see it.
One thing I truly believe is that Trollbeads is by far a superior product to any other bead brand on the market today but that doesn't make any difference at all when a retailer needs to sell to survive. Pretty much all the retailers I have spoken to admit it's the best product in its field. It's the original brand and it's by far more artistic and a better made bead than anything else out there. So the issue for these retailers is not lack of quality. The issue is its lack of recognition in a market so drowning in bead companies that it's difficult for the consumer to recognize the difference. Many retailers have been upset that Trollbeads has not been investing enough money in national advertising but they don't understand the problem in advertising and it's a huge one. It goes beyond any basic conceptions you as consumers or retailers may have about advertising.
Consumers are being bombarded by so many ads and media coming at them from all sources and they retain only what was initially put in their minds. First impressions last far longer than you think. It was bad enough that Pandora copied the Trollbeads add-a-bead concept but what added more to the issue was that Pandora was the first to enter the U.S. market and it brought the concept to the American mind/conscious in a huge and enormously successful way. As I mentioned above Trollbeads retailers are unhappy with Trollbeads for not spending more on national advertising but Trollbeads invested millions of dollars in national advertising in 2011 and a significant portion of the ads were attributed to Pandora and not to Trollbeads. So in essence you could say that millions dollars of Trollbeads money went to promoting Pandora. I experienced this phenomena myself when I had a large Trollbeads digital billboard placed on an interstate highway near my gallery. I can't tell you how many people said to me "Oh, I saw your Pandora ad on the highway". (Of course those were people that didn't know me well or they'd know my passion.) Most retailers and consumers believe that advertising works but in this case it didn't and doesn't. As a dealer I persevered and wanted to believe that one day people who don't yet know Trollbeads would get the picture. But they haven't yet and I want to figure out why and try to work past it because in my heart I know Trollbeads deserves to continue to succeed as a brand here in the U.S. Compared to Goliath Pandora, a mega multi-national conglomerate, Trollbeads is a small family owned company and call me a Pollyanna how can you not want the "little guys" to succeed?
I have serious collectors and dealers that subscribe to this blog and I have often been so grateful for the insightful wisdom left in the comments after I have written a blog. The comments may be positive or they may be negative but it's the shared passion we have that brings all of us better insight. Trollbeads U.S. needs your help and advice but it is me asking. We all love the brand and we want the value of our collections to remain strong so let's work together and figure out a way to conquer this problem of getting the Trollbeads word out there. A side note here, on the application to join our Trollbeads Gallery Forum I ask a question to everyone and that is "Do you like to share your love of Trollbeads or do you keep it to yourself?" I think about 50% of the answers come in as "Keep it as a secret". How funny is it that we don't want to share something we love for fear of what? For fear of losing great beads to people you've shared it with? It's time to open up and share your passion!
While I am confident Trollbeads U.S. has plans in place to work through this issue we should try to add our ideas to the effort. How can we work together to help spread the word in a grass roots effort to share our love of a brand so humble in all that it does beyond developing exquisite beads year after year, more important one that continues to do humanitarian works by creating factories and partnering with communities around the globe in dire need of employment. How can you not want to help figure this out for Trollbeads, for the people who are benefitting from their humanitarian efforts and for your own Trollbeads collection?
I may be asking for too much but I want to thank you for reading this article and for any input you may have.
This is not the place to air your negative thoughts and complaints. I work hard to support a brand I believe in so if you need to complain write me directly. This is meant to be a contructive blog.
PLEASE NOTE: When you leave any helpful ideas or comments they don't become visible until I approve them so it may take a few moments.
Louise Rogers