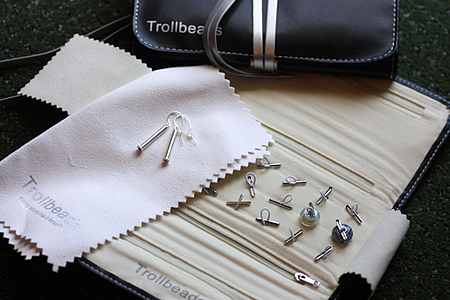 Trollbeads Gallery continues to share and support our love of Trollbeads through out our Forum and Facebook page. To thank our Facebook friends and to find some new friends we are offering a wonderful group of useful Trollbeads gifts. Our Trollbeads Facebook Page is having a drawing every Friday through the summer.Join in the fun and win a great group of useful Trollbeads products. The silver earrings were created by Tina Yelton at Whimsy and are so much fun to design your combinations and wear!

To enter the drawing all you need to do is to click on the Thumb's Up to

"LIKE US" tab and you will be in the running!

Just follow the link and join us! The prizes shown in the photograph are listed below:
1 Troll Collector's Clutch
1 Troll Polishing Cloth
1 Pair of Whimsy Silver Earrings that hold Trollbeads!
August 14th Update! We have changed the prize from earrings to a sterling, stick style, Trollbeads holding necklace. Our summer prizes have been enjoyed by our Facebook page fans!

Trollbeads Gallery Facebook Page
www.Retired TrollbeadsGallery.com
Our drawings are held at Noon and we send the winner a message notifying her/him of their win. The winner has 48 hours to email us back or we choose a second name!