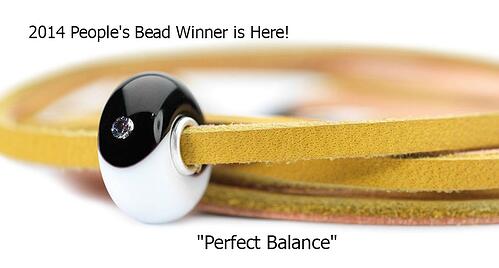 Now that Trollbeads Fest! 2014 is behind us we are collecting our thoughts and connecting with our eager and growing Trollbeads collectors group! First I would like to report that our Fest was a huge success and we had some of the best unique beads we have seen. Trollbeads supplied us with great beads and our collectors who traveled far and wide were rewarded with many great beads. Thank you to everyone that attended and thank you to Trollbeads for gracing us with beautiful beads!! It was a remarkable time for everyone and it has now evolved into a great group of like minded Trollies enjoying each other and enjoying the experience. It was wonderful!! We have just listed the remainder of our Special Event Beads. See them now! SPECIAL EVENT TROLLBEADS There are only a limited quantity of each of the beads left so see them first for the best selection.
News: As many of you know the 2014 People's Bead Winner (in photo above) was released last week. Purchase it now and buy it in your group of three to get another Trollbeads FREE...(until the 16th!) It is a beauty as you can see and as we all know who can't use more balance in their life?
As I write this I want to make a quick mention of the "Buy 3 Get 1 Free" Special...it ends on October 16th! It is such a great money saving event for all collectors. I have been thrilled with the amount of people who have purchased 3 of the new Gold Trollbeads and have received one free and saving hundreds of dollars AND still receiving a free silver chain and lock! Now that is saving!!! To see the newest release of Gold beads click here: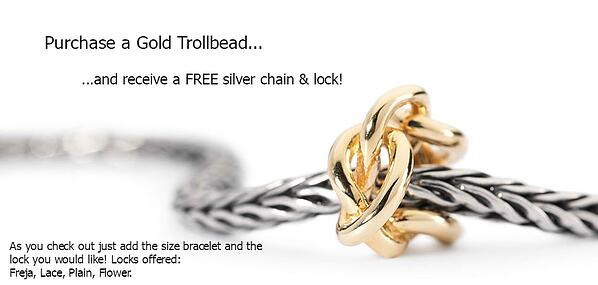 Our yearly tradition of offering you Orange and Black Trollbeads for your Halloween creations has continued this year and we are still adding beads as they have been selling. We were graced with so many great unique beads for Trollbeads Fest this year that we had beads to offer on our Halloween page! Order now so you can wear them as your trick or treat!
Hoilday Trollbeads 2014 Are Listed! This collection is easily the best group of glass holiday glass beads. Such a festive array of holiday spirit! Treat yourself to these beauties and get in the holiday mood early! While we have had the entire collection listed we have just listed the individual glass beads from the two kits.