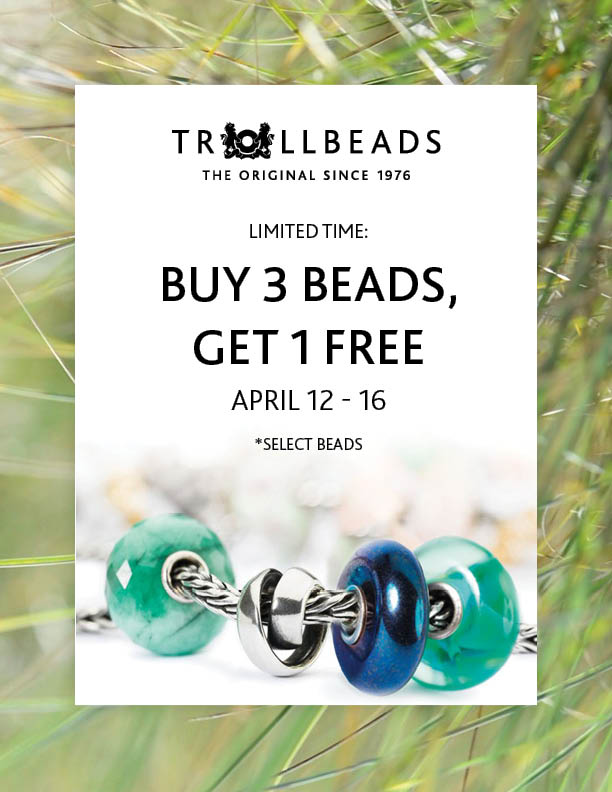 Greetings Trollbeads Collectors!
I know many of you are already making your shopping list! This particular sale is a great time to add bead to your collection that you have had on your wish list and save money at the same time!
We have seen a lot of new collectors join our ranks recently (which we are very excited about!) and I thought I would write this blog to help newbies better understand the best way to take advantage of this sale.
The first thing to know is that it only comes around once or twice a year so take advantage of it!
The second thing is to gain a good concept of how to group your beads in such a way that you save as much as you can!
Create a group based on the same price and your free bead can be that price too. In other words if you are buying a $63.00 bead, a $46.00 bead and a $31.00 bead you can only get a free $31.00 bead.
If you create a group of three beads at $63.00 your free bead can be a $63.00 bead. It obviously means the more you spend the more you save but that's the way it usually is! So if you have your heart set on a couple of the $31.00 beads it is best to have them all be $31.00 but it really doesn't matter to us.
Jump on over to our website now and take a look around! Trollbeads Gallery
If you have any questions just call the office during regular business hours toll free:
888-758-3641
Items not included in the sale are all Limited Edition Beads such as the new Mother's Day Beads. Also excluded is the New Spring Collection.
On Trollbeads Gallery all you have to do is to buy your 3 beads and at check out write your free bead in the notes section! Very easy! Again please call us if you have any questions.