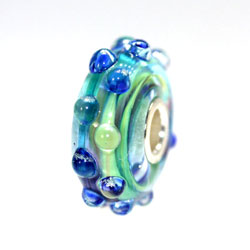 If you are an ardent Trollbeads collector and follow our Trollbeads Gallery website and receive our emails then you are well aware of the three new Trollbeads that were released just last week for Mother's Day. A truly beautiful group of beads with such meaning...well of course they are Trollbeads after all.
The Messenger bead is my favorite and if you are a member of Trollbeads Gallery Forum (if you aren't please join by clicking on link) or if you follow us on Pinterest (if you don't join us by clicking on link)you have seen the variety of ways people are wearing it. I have just heard from one of my Rogers Gallery's customers that is can be worn on a bracelet or the bangle with a prism on either side and the prisms holds the bead and the petals in place. So if you are finding it slip put on a couple prisms and you will find that lovely flower smiling up at you! Thank you for the tip Cheryl!
The Mom's Bouquet is a beauty too with flowers and leaves and I adore leaves! If you are working with the Bangle bracelet a lot you will want to see how it pairs up with the Elderflowers bead as it is a nice but not too perfect pair. Us artsy folks don't want anything too perfect! There are other ho-hum bead brands for that!
The Ruby Rock has had an outstanding reception! In all of its looks and in all of it's tones as we all love the stones that have variety. In design I equate it to choosing a granite for a counter or a fireplace surround. Why choose a granite that is the same all over? Find one with veins and little imperfections your eyes can be drawn to and those you can reflect on. As I said in the previous paragraph we don't want total perfection...what can our eyes search for and get lost in? You know the feeling! The Ruby Rock has a combination of stones found within it's composition. It is found exclusively in New Zealand's South Island and is composed of 3 stones. Ruby, Sapphire, and Tourmaline crystals in green Fuchsite. Every bead is different and will surely become one of our most favored stones. I have added other "looks" of the bead to Trollbeads Gallery so you can see what there is. I think it will also be a great bead to sell through our "Trollbeads With A Twist".
Are you asking yourself what is "Trollbeads With A Twist"? If you are you haven't yet discovered this wonderful opportunity for on-line shoppers to see the actual bead they are purchasing. First and foremost it is a category I created to offer you standard Trollbeads that have a twist to them or something that makes them unlike others of their kind. Wow, this seems to be the theme to this article! I love things that are different or wonky and here I offer beads that are just a bit unique. One example would be the Azure Bubbles bead whose next number will be over 80! That means I have sold over 80 unique Azure Bubble beads from this category. For Wild Cat I am into the 30's! The Golden Cave, Silver Mountain and Milky Way are great beads for this category as they are always unique! The second reason I list beads here is because it is a perfect example of what the bead was meant to be so in other words it is just nice to see what you are buying. Below is a small selection of beads I have or have had on the Twist page for a variety of reasons. Just know that there are beads that come in wide variations and I also include the retired beads that do too. I have a very hard time keeping beads here so check back often! I am the only one that does all the photography and image processing so do have patience.
Shown below is Takma, Issy, Green Armadillo, Glass Stone, Grey Wolf (all retired), Whitecap.