It has been a very busy time for Trollbeads with everything that has been introduced for this Spring and Summer. All of these exciting products can be seen and purchased on Trollbeads Gallery.
Where do I start?
The Bohemian Collection Pendants has added a great new set of silver pendants to use with the Sterling Silver chain necklaces. (See above).There are 6 new designs and you can see all 6 above here. They are designed to be easlily assembled with you glass beads to create very unique presentations so you are the designer! To celebrate the arrival of summer, Trollbeads will introduce the BOHEMIAN SUMMER collection on May 23, 2014. The launch will include the debut of décor pendants. The collection will consist of six delicate pieces: Romance, Whale, Bohême, Poetry, Vintage and Flower Meadow. Romance is an oversized heart that can embrace a favorite glass bead, placing love right where it belongs – in the heart. A symbol of strength, whales are the graceful creature of the sea and this pendant is perfectly paired with summer blue glass beads. Bohême combines two gorgeous elements: flowers and hearts; intricate details make a statement on their own that are enhanced with ethereal glass beads. The Poetry pendant exquisitely captures the elegant beauty of a flower. Elaborate details are found on the Vintage pendant including a delicate garland with a majestic teardrop pearl. Three sweet blooming flowers come together on the Flower Meadow pendant to form a lovely bouquet enclosed by tiny leaves; the small size makes the pendant perfect for bracelets as well. These expertly-crafted pendants are the perfect way to create unique customized combinations.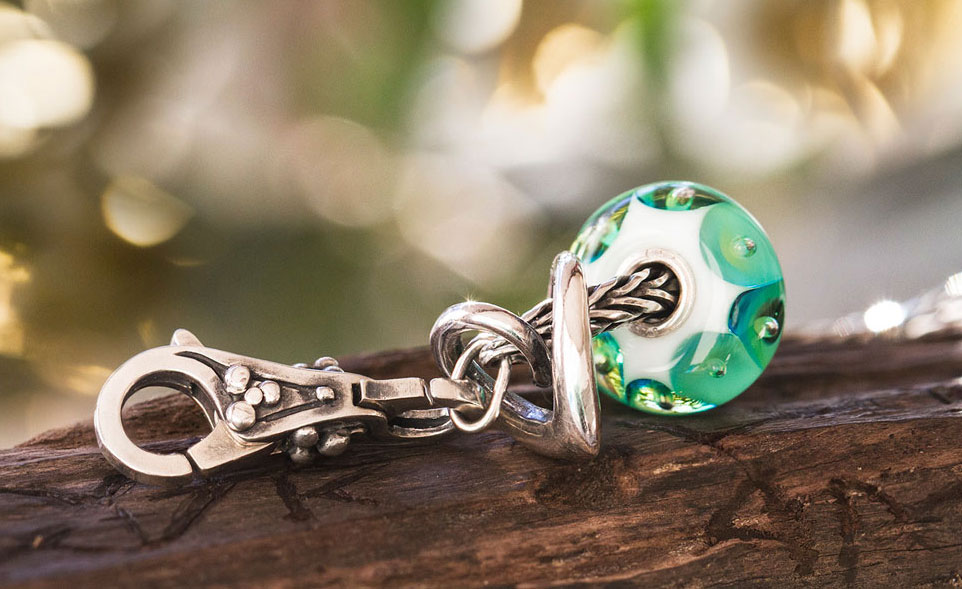 Trollbeads introduces a new starter bracelet this summer, MY SWEET STORIES. This limited-edition sterling sliver piece features a stunning green glass bubbles bead, an elegant sterling heart, and a decorative clasp. The translucent green bead is not only one of the most important colors of the summer season – it also symbolizes the natural beauty of the flora and fauna of Denmark. My Sweet Stories bracelet is the ideal Trollbeads starter bracelet as it's universally-appealing, simple and stylish.
Another great release and priced to be a special with a savings of $37 are the Sparkling Bangles. They come in the 5 Diamond Beads which is a Group 3 Glass bead at $63, a Bangle and 2 stoppers. The retail price for these sets is $236 but the special price is $199.00!
Even if you already have a bangle get another one as they are great when used in multiples!
Along with these Trollbeads releases we also have ground breaking released from Trollbeads by "X"! Besides the new links we also great cords!! These can be used with all your X links!

The sterling silver FLOWER CLOUDS pendant, a standout piece in the X by Trollbeads collection, is reminiscent of Denmark's national flower, the daisy. Daisies are symbolic in that they convey innocence, loyal love and Purity. Mix and match the versatile and playful FLOWER CLOUDS pendants together with iconic rubber X links to create a unique bouquet style necklace, one that is sure to make a statement. The light-weight link is versatile and can also easily be incorporated into any X by Trollbeads bracelet. Or wear it with one of the three colors of NEW necklace cords.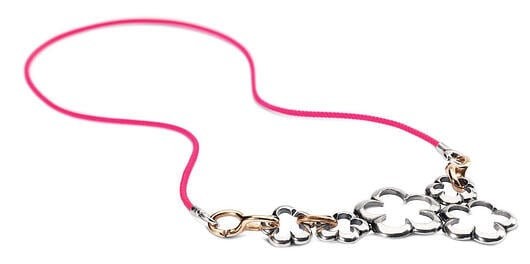 The INFINITY is another new pendant in the X by Trollbeads Necklace Collection. The intricate sterling silver tri-cornered INFINITY symbolizes the philosophy that everything has three distinct, yet interlocking, levels – physical, mental and spiritual. The never-ending interlocked loops look simple, yet they represent an unbreakable bond. INFINITY can be creatively styled on the newly introduced ASIAN CORD collection (seen here with double X links in bronze). The ASIAN CORD collection is available in three lengths and in three summer colors including soft green, pink and black. For another personalized twist, string the INFINITY with rubber X links to create an edgier, unexpected combination.

The X by Trollbeads Necklace Collection introduces the hauntingly beautiful BIRD SKULL pendant. Birds are the majestic and graceful creatures of the sky that symbolize beauty and freedom while the skull represents fearlessness and strength. This piece is the perfect combination of "pretty and tough." The BIRD SKULL pendant can be paired with a variety of chains or an ASIAN CORD. Mix it with rubber X and double X links to create everything from choker styles to long, elegant necklaces.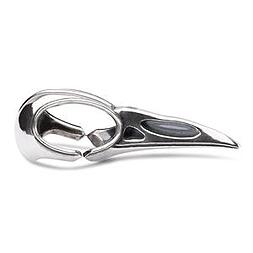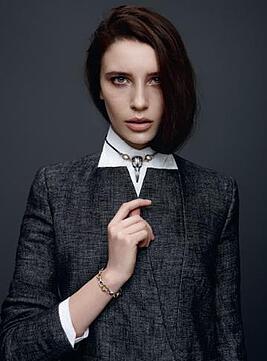 We have a brand new color of Rubber Link! Ocean Blue! Below we have it in a ready to wear bracelet. The Summer Ocean Bracelet is $105.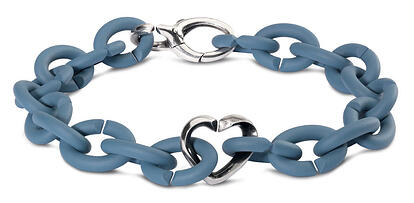 The same bracelet completed in the black links and bronze links is just $75.00. The "My Heart, Bronze" has just been released! A classic black and golden tone bracelet is versatile and can be worn all year long!