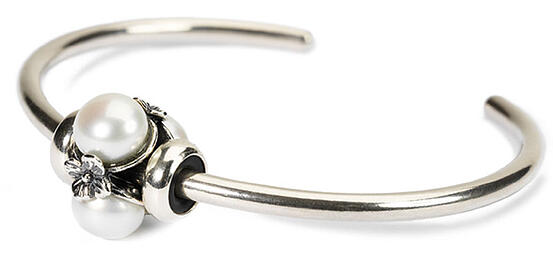 Trollbeads Gallery (that's us!) is now Offering a $40 Savings when you purchase a Trollbeads Bangle! Read on for the fun of it because like everything else with Trollbeads you make it what you want it to be!
If you are reading this blog then you know about or collect Trollbeads. Unlike any other brand on the market Trollbeads is about YOU. It's not about what series of designer jewelry some focus group had a part in deciding it is what you would want, it is all about you. Your life, your family and most of all your story. Trollbeads gives you the means to define your personal experience through choosing from any of the hundreds of beads in every color and material worthy of the Trollbeads brand stamp. You have seen what so many collectors have created as shown through the years on Trollbeads Gallery Forum. Trollbeads isn't just about beads it's about the creation of the bracelets and the layering on of story upon story of your life and each one of the pieces of jewelry you create is a chapter or a whole volume for you to celebrate and for you to remember.
I prefer to think of the various bracelets and necklaces as the "canvases" we are offered by Trollbeads to create each design, each one of our own designs. No one else's, just our own. If you have a box of Trollbeads bracelets, as I know many of you do, take a quiet moment and look in your box. Think about each bracelet and each bead and then think about what they mean to you. I find if I do this my mind starts wandering to each person that has gifted me a particular bead or why I have one bead or another. Before long it feels like my blood pressure has lowered and I am in a meditative mood. Some beads were gifted to me in Copenhagen, some were sent as holiday gifts and some are special because they were favorites of my grandson when he was young. Some of the old uniques are special because I can laugh as I remember years ago trying to take images for the website with none of the expertise I slowly discovered along the way. Yes, there are some beads I have just because I adore them and because of the beauty and that makes me happy too. But one thing that Trollbeads continues to add are bracelets and necklaces as I said the canvases for us to use.
The best addition in 2013 (for me anyway) is the Trollbeads Bangle Bracelet. Think of this bracelet as the abridged version of the Trollbeads chain or the "trailer" if your bracelet chain is the full length movie! I know these aren't for everyone but if you are lucky enough to be able to wear them you are blessed with an easy solution for a quick design when needed. We have highlighted many, many Bangles on our Pinterst Page * and on Trollbeads Gallery Forum so if you follow me on Pinterest or are a member on the Forum you will have seen some of our examples.
Trollbeads dealers are allowed to offer their customers 2 everyday specials and as of today Trollbeads Gallery will be offering two FREE Trollbeads stoppers with a savings of $40.00 when you purchase a Trollbeads Bangle. So buy your Bangle bracelets and get started with your "mini" version of your story and wear it with your full bracelet! Below the Trollbeads Bangle is highlighting the Golden Quartz Trollbead flanked by two Little Precious 18K Gold Trollbeads along with the outer silver Trollbeads Stoppers. Notice how the Bangle design accents the Trollbeads bracelet sitting next to it!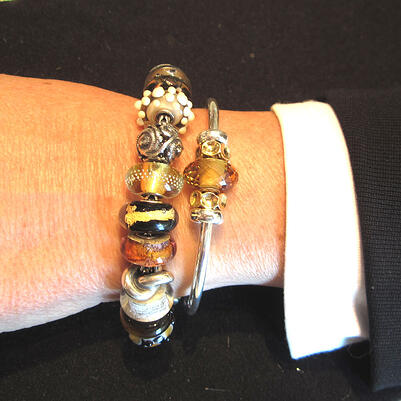 Below I am featuring another Trollbeads Bracelet-Trollbeads Bangle combination highlighting the light turquoise tone translucent beads. On the Bangle the Diamond Bead, Ice Blue is separated by two of the silver Christmas Rose and next to these beads are the Light Turquoise Prism Trollbeads. The full Trollbeads bracelet has the accents of Turquoise with a couple of the Unique beads,the Golden Quartz Trollbeads and one of my all time favorites...the Trollbeads Gold and Silver Daisy Bead! The whol combination just sparkles and with everyone loving the double bracelet look this is a perfect way to accomplish it while honoring your love of Trollbeads!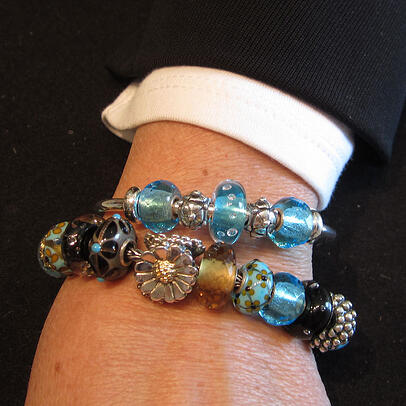 Trollbeads Gallery Pinterst Page is a great place for you to find inspiration and be updated on a daily basis of what new Unique or Retired Trollbeads we are listing as they are listed! Join us on Pinterest and enjoy knowing what's going on!