It's always interesting to check in on what the best selling Trollbeads are for any given time. I just checked and found a list published by Trollbeads on their best selling beads for the first six months of 2013. Now when you look at the Trollbeads here you need to keep in mind when each bead was released and if the release itself came within the time frame as that can be a reason why the sales are strong. The list itself contains chains, locks and stoppers but for this list I am editing them out and only listing beads. For your information the biggest selling lock was the Large Flower Lock and the second biggest selling lock was the Large Fish Lock...which brings me to mention when will Trollbeads be good enough to release another large lock like the other two large locks??? Everyone I know wants a new one and each time I met with Soren I begged him for one...so let's all just keep hoping! Please hear us Trollbeads!
1. Unique Glass Kits: This is no surprise to me! All of our Unique Trollbeads are listed within this link. Unique Trollbeads
2. Summer Stone Kits: Having just been released in May this is a surprise to me as this kit only has a month to make it to the second place spot. US Trollies certainly love our natural stones! Trollbeads Gallery now includes Summer Stones on our Trollbeads With a Twist category so you can choose your own stones and see what you are getting. The Summer Stones comprise of 6 different stones (shown below) and each one is very unique.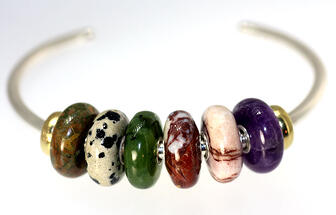 3.Rocky Beach Kit This style of glass Trollbeads heralds a huge change of glass beads for Trollbeads. This kit was designed by an American glass artist Scott Bouwens from the state of Washington. It's organic feel has such charm and such an artistic flair and each bead when used together gives honor to the bead next to it. When you buy glass beads in a kit you get 6 beads but you pay for 5 which is a $31.00 savings.
4.Happy Summer Kit This kit is all Trollbeads and has a great tone running through out. The soft peaches and blues are a great starting point for a whole new bracelet design. I have seen many different styles designed with these beads from fun summer themes to more art inspired themes. I'm happy to say we sold a lot of this kit as people enjoy the savings of a bead when they can get it!
5. Big Butterfly One of my very favorites! This huge bead is so much fun to wear on a necklace, on a chain or on a bangle! If you use stoppers you can position it to stay where you want it to. It's a lot of silver for the price and there are so many ways to use it so I am thrilled it is at the #5 position! Featured below on a leather bracelet.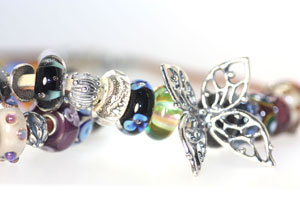 6. Ruby Rock I have to say that this is a surprise to me. Every time I get Ruby Rocks in they looked very different and none of them look quite like the photo Trollbeads supplied to us to use on our websites. We do best selling the Ruby Rock beads on out Trollbeads With A Twist category as our customers know we offer this so they can see what the bead looks like that they are getting. It is a beautiful bead and the varieties are all lovely but can be huge!
7.Aurora Bangles I am thrilled to say that although TrollbeadsUS and Trollbeads Gallery were all but sold out of this incredible set, we know have just obtained an additional 18 so we are good until those are gone. This bead is simple awe inspiring and while many of us were not thrilled to only offered it on a Bangle I can say that many bought it and reported back that they would not have tried the Bangle unless it had come with the Aurora Bead so in the end many are happy. From our Trollbeads Gallery Forum I have seen so many collectors show off their Bangle and their Aurora designs and have enjoyed and been inspired by them. To see some of them all in one place click on the link below! Pinterest is a handy site to be able to sort your photos for a particular product. A variety of Aurora Bangles are shown below.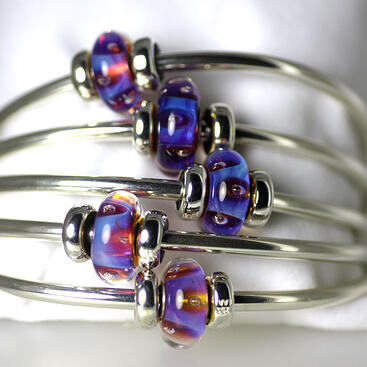 Trollbeads Bangle Inspirations on Pinterest
8.Agate Dendritic Like the Ruby Rock this bead comes in many different looks. If you can't get to a store check out our "Trollbeads With A Twist" category because we feature the Agate Dendritic Trollbeads there. It's a good stone to have as it adds a lot to any black and white bracelets or necklace designs. Released this Spring. Samples below!

9. Starfish A delightful design just released this Spring designed by Soren Nielsen. If you don't have one yet and if you love the ocean put this on your list!
10. Mom's Bouquet Released for Mother's Day, 2013 this is a wonderfully sculptural bead with leaves and flowers.
I hope you've enjoyed the 10 Best seller list! Let me know what your favorites are!