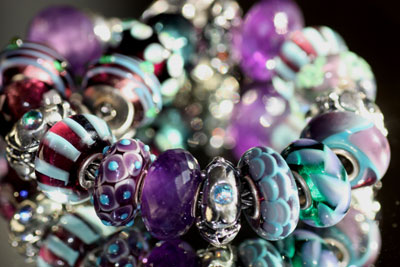 As one of the longest active Trollbeads dealers in the United States I have been doing a lot of soul searching and a lot of thought processing over the changes that have occurred with Trollbeads over the last couple of years here in the US. We have all seen quite a few US dealers give up their dealerships and it's a very sad turn of events for the US collector and this is what I want to address.
The U.S. jewelry market is constantly changing due to the average consumer's need for "new" and styles are constantly evolving from this need. It is not the fault of anyone other than living in the 21st Century. How often do you turn on your computer and get bombarded with product images and ads? Between banner ads, television, billboards, Twitter, Facebook and Instagram we have become a society with a very short attention span and unfortunately our buying habits have become just as short. The "new" and the "latest" never last long in this society and the quality of these products don't tend to last either. You've heard of the term "throwaway society" and that is literally what constantly evolving trends promotes. Let me tell you one thing...this is exactly why Trollbeads is still the ultimate brand.
How many jewelry lines do you know where you can change your look with a simple redesign of your bracelet? Even with competing brands like Pandora the look is always the same and that is why Pandora sales have dropped. One undeniable fact about Pandora is that the average Pandora wearer only has one bracelet and goes no further. Active Trollbeads collectors never stop at one and many have over a dozen. Trollbeads offers new looks with each new collection and the quality of their designs and the variety of looks and materials assures that no matter the trends you too can change your look with Trollbeads. Look at the variety of sizes of the beads too! If you like a chunky large bead look you can do it with the barrel style beads of the Gecko, Opposites and Flying Geese. Or if you like a petite look there are many silver and glass beads that are small. That is not even addressing the most recent "X by Trollbeads" line with its cutting edge approach to creating your own look. Well I guess I have expressed how much I am still enthralled with Trollbeads and I trust you are too. Why else would you be reading this?
The title of this blog was meant to attract new Trollbeads collectors to Trollbeads Gallery and this is for 2 purposes. The first being I would love to offer more people my services but the second one being I want everyone to know how hard I work to offer you our excellent small store service through a website. This is for all of you who have lost your local dealer or have lost a website you were comfortable with. It's up to all of us to keep our collections valuable and our interest strong and I want to help you do this so if you don't know me or Trollbeads Gallery read on!
What does Trollbeads Gallery offer a Trollbeads Collector?
1.The best photos offered of Unique beads on any website!
2.We list new Unique beads daily on our site (no fighting over beads on Facebook)
3.We have a bead wish list I keep so if you are looking for a particular bead let me know and I will find it for you and contact you directly...I love the thrill of the hunt!
4.We have "Trollbeads With A Twist" which offers you photos of actual beads within the Trollbeads line so if you like to see the bead you are buying first...you can! If you haven't seen what we offer take a look! It is so fun to see how different beads can be from one to the other. Especially the Faceted stone beads.
5.We have many Retired Trollbeads in stock and we're proud to be able to offer you the selection we have!
6.Our excellent customer service is a huge benefit so please let us know if you need anything. We don't charge for shipping unless it is out of the country or expedited.
7.Our shipping manager, Penni is the most efficient person I have ever had the joy to work with and she will answer any questions for you about shipments.
8.We host the largest Forum for Trollbeads collectors around the world! If you have ever ventured on to our Trollbeads Gallery Forum you know how much inspiration can be found and how many Trollbeads friendships have been made there! Join us if you haven't! We have almost 4500 members from around the world and 27,000+ Trollbeads photos!
9.We host Trollbeads Fest! each year with our 5th one coming up on October 3 & 4th. This is where many Trollbeads friends come together to see each other in person and get to choose from hundreds of fresh unique beads and dozens of fresh ideas. We have a glass artist demonstrating glass bead making and offer you so much more. Our attendees come from all over the US and from Europe too! We will have "Buy 3 get 1 Free" at the event and on-line that weekend! Photo below was from the 2011 Trollbeads with Trollbeads founder and designer Soren Nielsen.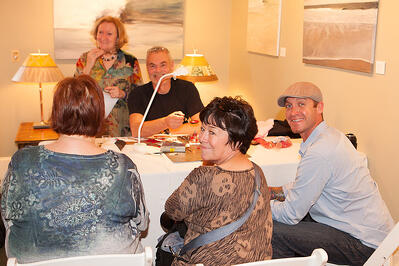 10.No other Trollbeads dealer has dedicated themselves to Trollbeads as I have. I am not bragging but I am saying my life has been centered on Trollbeads and not many dealers can do this but I have great employees to carry my stores forward (without me) most of the time! Going on a decade now I have been shouting out with enthusiasm the Trollbeads word and I will never stop! I have been thinking about dealers that have given up the line and for whatever the reason I know they regret having to do so. How many brands can you put your heart and soul into and know the reasons are more than making money. They are for the joy of working with people and products you truly love. How much better can it get? I've watched the past dealers try to create a post-Trollbeads life for themselves and it saddens me. There are even past dealers offering to have copies of Trollbead made and that is the most flagrent act against Trollbeads, a brand they once supported. If I was a collector I would think how can a person who sold Trollbeads to me do something so harmful to a brand I once bought from them. I think issues crop up between dealers and distributors at the local level and they forget about the reasons they represent the brand to begin with.
I have meandered on here and I should conclude by just reassuring my collectors that my heart is still strong for Trollbeads and I will do everything in my power to continue to spread the Trollbeads word keeping our collections valuable. So if you haven't purchased from us yet-try us out! It will be worth it!
Louise Rogers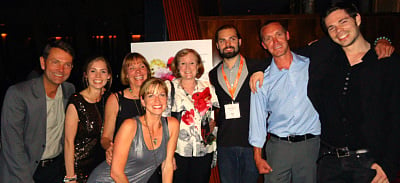 The photo above is a favorite of mine and it was taken at a Trollbeads event with the Trollbeads family. From left to right: Peter Aagaard, Isobel Aagaard, Lise Aagaard, Krista Rogers (my daughter in law) in front, me in back,Robin Aagaard, Alex Rogers (my son) and Nick Aagaard.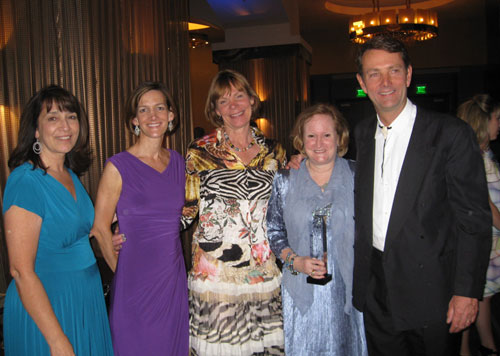 Here are my two faithful Trollbeads employees, Carole and Penni with Lise and Peter after winning my Trollbeads Hero Award. What an amazing night for everyone!