Trollbeads New 2011 Spring Release is out and so is the verdict! There isn't anything from the new release I would advise you not to add to your Trollbeads collection. Honestly it is, overall, the best of the best and I can't wait to get to work with the beads in the gallery and really dig in designing with them! The best part of this new collection is the brand new availability of the Glass 1 beads in sets! A set is made up of 6 glass Trollbeads and you only pay for 5! Pictured below is the new "Beach Set".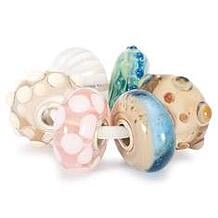 Sets have been available in Europe but TrollbeadsUS chose not to offer them in this way. With the new U.S. distributor we are able to offer a number of predetermined themed sets all based around beads from a particular release. Examples being the "New Black and White Kit" set which has 6 black and white Trollbeads from a 2010 release and includes the Black Armadillo, White Flower, Black Bubbles among others.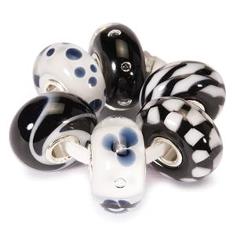 There is the "Desert Kit" (shown below) which includes all three Desert Trollbeads, Deep Bubbles, Khaki Stripe and Desert Flower.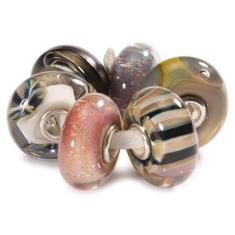 To view all of sets offered view the "What's New" on Trollbeads Gallery. Two new sets have been introduced with the 2011 Spring Release using all twelve new glass beads, the "Beach Kit" and the "Flower Kit". The "Milky Quartz" is the new Precious Stone addition and it offer us a white bead that ranges from bright white to a darker white so owning one is not going to be enough! The new Fantasy Pendant bead is the sterling "Shadow Flower" and it uses the Pearl of the Fantasy Necklace to form delicate petals that encompass the pearl. Beautiful silver work!
The "Double Heart" is a nice departure from the sweeter scale hearts already in production and it has a "techno-romantic" style to it lending it more to the contemporary look. Sales have been excellant and people seeing for the first time are surprised how much more they like it in person!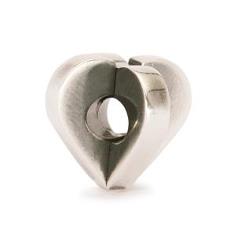 "Cherry Blossom" (shown to the left) offers a GREAT bead somewhat in the style of "Forget Me Not" but in a balanced bead. The size is so usable and round.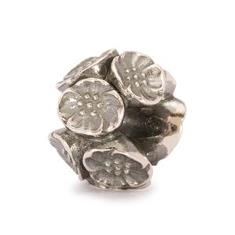 The "Family of Kittens" and the "Family of Puppies" are needed addition as house pets go but they also serve to tell me I need stronger glasses. Both of these beads are wonderfully rendered once you see the detail. I am thrilled they have added more pet beads because we all know the dog and cat market is enormous and we definitely needed more to offer these loving pet owners. One of the best beads of this release is actually a surprise to me because before I saw it in person I simply though, oh this is nice. Then when it came in I ran around our stores and showed it to everyone exclaiming how amazing it was and that is the Palm Island. I mean let's face it here in New England we don't get very excited about Palm trees, or you would think! This bead is a beauty!!! You can't see it in the website photo but the ball is a beautiful soft translucent ocean blue with, are you ready??? Sparkles!! It looks just like the shimmering seas and the tree itself is standing on a sand colored mound, hence the "Palm Island". If the gang had this bead on Gilligan's Island they wouldn't have spent 98 episodes trying to get off the island. So my advice to you would be run, don't walk to Trollbeads Gallery and order up! We have loads and loads of inventory or run to your local dealer as soon as you can!