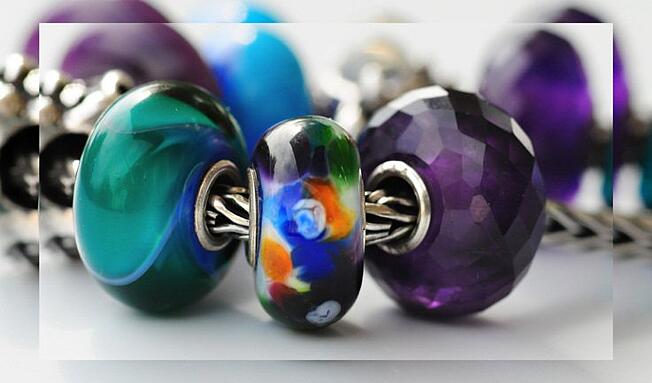 With only 12 days to go before our Trollbeads get together gets underway we have only to sit back and ponder our plans! The Fantasy Necklace, Leather Bracelet and New Trollbeads Earrings learning stations are well thought out and well stocked. The teachers are getting their learning stations ready! The photo above was taken by our Trollbeads Fest visiting photographer, Ginger Hatten from Wyoming. She will show you how to shoot photos of your collection with clarity and detail so you can be proud of your Trollbeads photographs.
The famous Rogers Gallery/Trollbeads Gallery selection of Unique beads totaling almost 1500 Assorted Unique Trollbeads (referred to as OOAK in Europe) could not be more diverse and more beautiful. The stunning possibilities for adding to your Troll collection in one place has never been as great. Trollbeads Fest! 2010 will be the the first festival of it's kind in the United States.
A Trollbeads Trunk Show will be running concurrently with Trollfest offering specials to all attendees. If you purchace 4 Trollbeads of any value you may receive a free Trollbead of equal or less that the lowest priced bead purchased. If you purchase any of the Gold Trollbeads you will receive $100.00 off and if you purchase a Silver/Gold Trollbead you will receive $50.00 off! The Trunk show specials offer such great savings attending Trollbeads Fest for this alone is worth it! If you need further details call the gallery at 1-508-758-3641.
Purchase a "Pax" Trollbead at Trollbeads Fest and meet Suzanne Hopping the designer. Suzanne is coming from Australia and will be at Trollbeads Fest signing special Trollbeads Fest presentation certificates for the "Pax" bead so you will always have unique memoriabilia for the first festival of it's kind. Suzanne will also be signing the coffee table book "Icon of Jewelry Design, Trollbeads". The 2009 Trollbeads People's Bead Winner is featured in the book.
If you haven't yet signed up for Trollbeads Fest, it's not too late! Join us for a fun filled weekend in the best month of the year in New England! Enjoy the foliage and the crisp clean fall air with a lot of other Trollbeads fanatics!
Check out the excitement here!
History in the making! On Friday October 15th Rogers Gallery will be unveiling the first Trollbeads Museum of its kind in the United States. Two years of collecting some of the oldest and the rarest of Trollbeads has produced a collection worthy of seeing!