(Photograph of New Bedford Whaling Museum)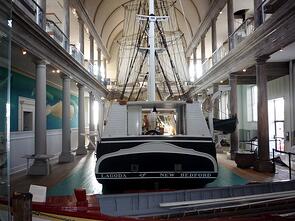 Trollbeads Fest 2010, hosted by Trollbeads Gallery/Rogers Gallery will he held in Mattapoisett and NewBedford, Massachusetts on October 15 and 16th. Many instructive events are planned and no collector would want to miss. We will update you on a special Trollbeads Fest Website which is being launched very soon.
All events have a finite capacity so go to the Trollbeads Gallery Forum and make your reservations now! Look for the Eventbright App onthe Main page.
Friday, October 15th Friday is greeting and meeting day. The gallery will be offering lunch from 12-2. Come introduce yourself, play with Trollbeads or just hang out! Friday Evening (5:00 PM-7:00 PM) Come for a glass a wine and toast to Trollbeads Fest! Our New Trollbeads Museum will be on view in the gallery on Friday. Gold Wine Harvest Bead Raffle with proceeds to benefit a local children's charity. (TBA) Complimentary transportation to and from Official Trollbeads Fest 2010 hotel will be offered. Limited availability / first reserved, first served. Saturday, October 16th Saturday (9:00 - 10:00 AM) Registration and light breakfast
Saturday (9:30 AM - 5:00 PM) Trollbeads Fest 2010 @ Fairfield Inn & Suites, New Bedford, MA. (see reservation note below) We will have a variety of different "stations" to keep you entertained: * Fantasy Necklace
* Leather bracelet
* Retired Beads
* Special Assorted/Unique Trollbeads (Large selection with new beads being introduced through-out the day, so no one misses out) Charity Raffles!! (Including a large and beautiful Aqua and Yellow Smiley Bead)
Other events and activities to be announced.
Saurday (Noon - 2:00 PM) Lunch in the Trollbeads Cafe. Saturday Afternoon (5:00 PM) Anyone interested in a Harbor Cruise of Historic New Bedford's working waterfront? The Whaling City Expedition boat will leave from the pier just across from our recommended Trollfest hotel and the evening's restaurant. Separate ticket required: $10 per person. Limited capacity.
Saturday Dinner (7:00 PM) Buffet dinner at the Waterfront Grille, one of the area's finest restaurants, which is also conveniently located across from the Trollbeads Fest hotel. Separate ticket required: $38.00 per person (Not including Alcohol). Limited seating.
Official Trollbeads Fest 2010 Hotel: If you are traveling from afar, we highly encourage you to stay at the Fairfield Inn & Suites, New Bedford, MA. The hotel is in the waterfront area convienant to many sites. When making your reservations, please make sure you advise that you will be attending Trollbeads Fest 2010 so that you can get the special discounted hotel room rate. You can also book online at www.marriott.com/ewbfi using the following Trollbeads Fest 2010 discount codes:
* Standard double: TRFTRFA $99.00
* Standard King: TRFTRFB $ 99.00 * Standard Suite: TRFTRFC $ 119.00
* Double Harbor View: TRFTRFD $ 119.00
* King Harbor View: TRFTRFE $ 119.00
* Harbor View Suite: TRFTRFF $139.00 This is a brand new hotel located steps away from the New Bedford Whaling National Historic Park in downtown New Bedford.